Increased Denials of Valid Claims: Don't Be Lulled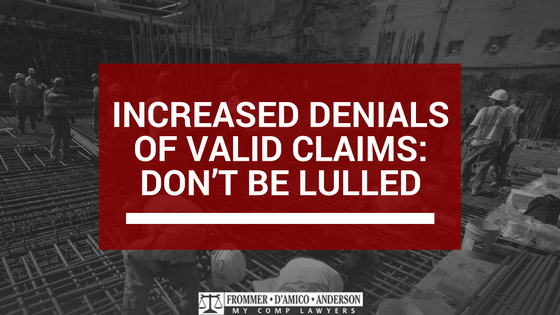 Under Pennsylvania law, one of the most common methods of discouragement used by insurance companies is the basic denial of a claim.  In most cases, an insurance company will agree to pay preliminary medical expenses but nothing else.  The law allows it to do this without admitting that an injury occurred.  Occasionally, the insurance company even issues a Temporary Medical Only Notice of Compensation Payable, which allows it to review a claim for 90 days before officially accepting it.  The next 90 days can make or break your claim.
If the insurance company followed all of the necessary requirements, it can direct you to its panel of physicians to guide your care.  While you can treat off panel during this 90-day period, the insurance company does not have to reimburse off-panel care.  During this 90-day period, it can also send you to undergo an independent medical examination (IME) with a doctor it chooses and pays for.  All it needs is an opinion of full recovery.
Once the insurance company obtains an opinion of fully recovery, it will issue two additional documents:  1) a Notice Stopping Temporary Compensation Payable; and 2) a Notice of Compensation Denial.  More and more of our clients walk into our first meeting following an IME wondering how it could possibly say they are fully recovered.  We see it all the time.
By using this tactic, the insurance company has put the injured worker at a disadvantage.  It controlled all of the workers' medical care; it directed the unrepresented worker to an IME; and it issued documents intended to discourage the worker from pursuing a claim.
This is why our firm offers free case management.  We are committed to guiding injured workers in Pennsylvania through a complicated process from the very beginning.  Some firms might say, "Call me when you are in court."  That is not our style.  Retaining an attorney early in litigation can prepare your claim for success from early in the process.  Do not allow the insurance carrier to lull you away from the legal representation that can make the difference in your claim. Contact us today.