Workers' compensation laws exist to protect both the worker and employer. Unfortunately, many workers do not feel protected when they file a claim and have a hard time getting the benefits they need to pay for medical care, lost wages and other needs.
If you're having problems with workers' compensation and need a workers' compensation attorney in Chester, PA, contact Frommer D'Amico for a free consultation, or call us at 717-400-1000.
What Kinds of Benefits Will I Receive?
In Chester, you may qualify for different benefits depending on your injury and situation, including:
Medical Benefits: These are some of the most common benefits. If you are injured and need treatment, these benefits cover your medical bills.
Disfigurement: If you have suffered severe injuries, such as burns or scars, which have resulted in disfigurement, you may be able to secure additional benefits.
Death Benefits: Families who have lost a family member due to a workplace injury, accident or illness may qualify for death benefits.
Temporary Total Disability (TTD): These benefits cover wage loss in the event you cannot work at all for a temporary period.
Temporary Partial Disability (TPD): These benefits offer you financial resources if you are injured and must take a lighter or lower-paying position while you heal.
Specific Loss: If you lose the ability to use a body part, suffer a work-related amputation or receive a serious injury that leads to loss of a body part, you may be entitled to a lump-sum benefit.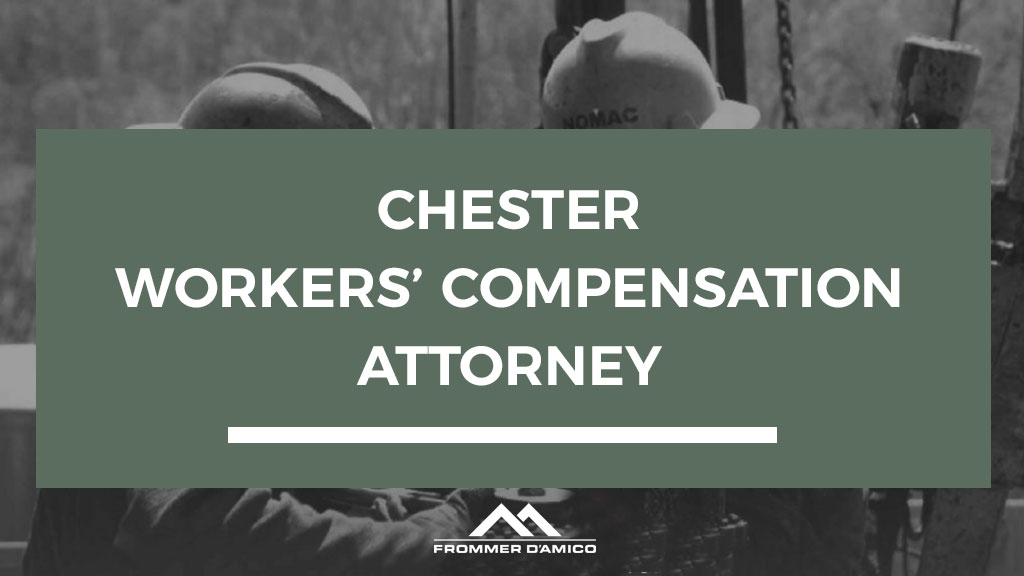 Getting Workers' Compensation Help in Chester, PA
If you encounter any problems and need a workers' compensation lawyer in the Chester, PA, area, contact Frommer D'Amico. Unlike many firms, we are exclusively a workers' compensation law firm. We do not take on other cases, and we only represent injured workers — never employers or insurers. This specialized focus allows us to dedicate all our time and resources to situations like yours.
Since Frommer D'Amico understands the financial distress injured employees face, we offer not only free consultations but also free case management. The typical Chester, PA, workers' compensation law firm will seek a percentage of every benefit check for case management, so our approach to these costs can save you thousands of dollars.
Frommer D'Amico has already recovered more than $50 million since 2012 in workers' settlement cases, and we have earned the esteem of our clients, thanks to our pursuit of benefits and our approachability. When you contact us, you'll speak with an attorney who responds promptly. We're even willing to travel to you if you cannot come to our offices.
If you have concerns about your workers' comp claim, contact Frommer D'Amico online for a free consultation. You can also call us at 717-400-1000.