While some Easton and Pennsylvania jobs are more dangerous, anyone can be injured in the course of work duties. In addition to workplace accidents and injuries, your work duties can also aggravate an existing injury, or you may contract an illness due to your work. In all these cases, you likely can seek workers' compensation benefits to cover medical care, lost wages and more.
If you're having trouble getting fair benefits for your work injury, unfortunately, you are not alone — it's an issue that affects many employees. If you live and work in the Easton area, contact Frommer D'Amico online for a free consultation or call us at 717-400-1000 to speak to an Easton workers' compensation attorney about what can be done in your case.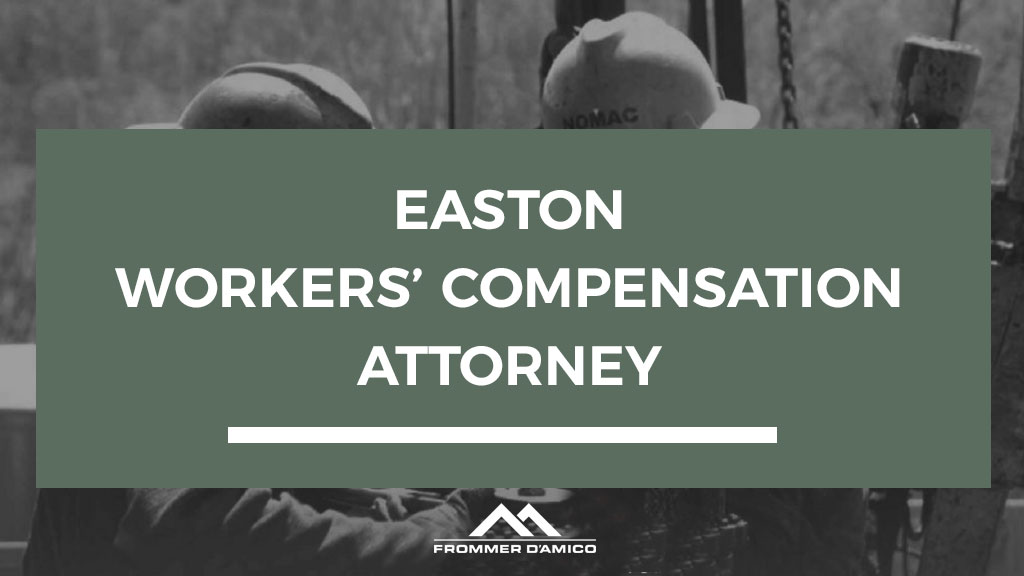 What Are My Options?
If you are not getting the benefits you feel you deserve, your best option may be to speak with a workers' compensation attorney in Easton, PA. An experienced attorney can ensure your wages and injury are correctly classified and appeal any denials of your claim or attempts to stop or modify benefits. If your checks are late or your employer did not pay for your insurance as required by law, an attorney can address this, too.
If your work injury was caused by a third party and not your employer, you can also discuss the possibility of a third party claim in addition to your workers' compensation claim with your workers' compensation lawyer in Easton, PA. Since filing such a claim can impact your benefits, it is important to discuss this option with a qualified attorney who can help you determine the best option for pursuing maximum benefits.
Where Can I Find Help?
Frommer D'Amico is an Easton, PA, workers' compensation law firm. Several things set us apart include that we:
Save You Money: Frommer D'Amico offers free consultations, as well as free case management. Many firms seek attorney fees on weekly benefits for services like reviewing injury description petitions, prosecuting late check penalty petitions, filing unpaid prescription penalty petitions, reviewing impairment rating evaluation petitions and examining utilization review determination petitions. In some cases, these fees can cost you 20% of your weekly benefit check. By not charging case management costs, we can save you thousands of dollars in some cases.
Specialize Only in Workers' Compensation: We only represent injured workers and never accept cases from insurers or employers. By not representing other types of cases, we have created an in-depth level of knowledge.
Are Certified Workers' Compensation Specialists: We show our commitment to injured workers by taking the added steps to get certification in this area.
Care About Our Clients: We have not only recovered more than $50 million in workers' comp settlements since 2012, but we also treat each client with kindness and professionalism. We take the time to speak with our clients — we'll even travel to you if you cannot make it to our offices.
If you need an Easton, Pennsylvania, workers' compensation lawyer, contact Frommer D'Amico online for a free consultation, or call us at 717-400-1000.