Updated: 3/19/2020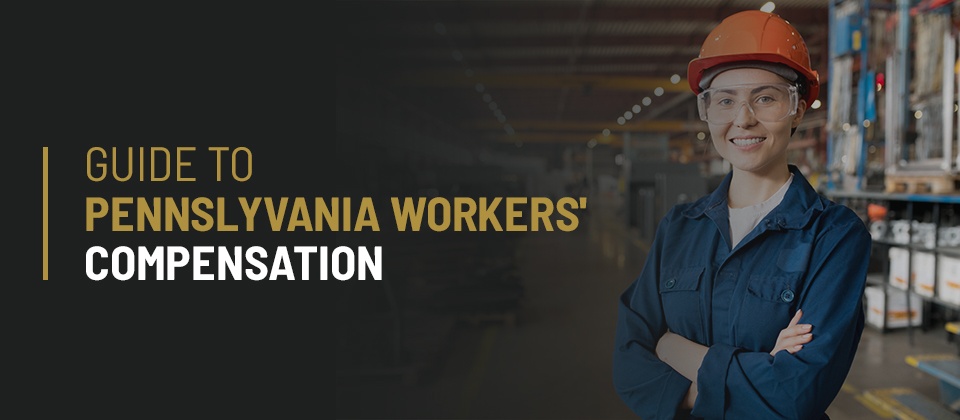 Workplace injuries occur every year throughout workplaces in Pennsylvania. In 2014, the Pennsylvania Bureau of Workers' Compensation received 177,316 work-related illnesses and workplace injury reports. In 2017, 172 fatal work injuries were reported, with the majority occurring in the transportation, utilities and construction industries.
In Pennsylvania, injured workers can file a workers' compensation claim to receive payments for medical care, lost wages and specific loss benefits. 
Download Free PA Workers' Comp Guide 
Here at Frommer D'Amico, we've assembled this guide to workers' compensation in Pennsylvania to help you navigate the process. If your question isn't answered here, feel free to contact us for a consultation and advice.
What Is Workers' Compensation?
When Pennsylvania employees are injured on the job, they're protected by workers' compensation, but there can be many questions and much confusion around these benefits. If you develop a work-related illness or sustain an injury on the job, you are generally covered by the Pennsylvania Workers' Compensation Act, unless you belong to one of the classes of workers not covered.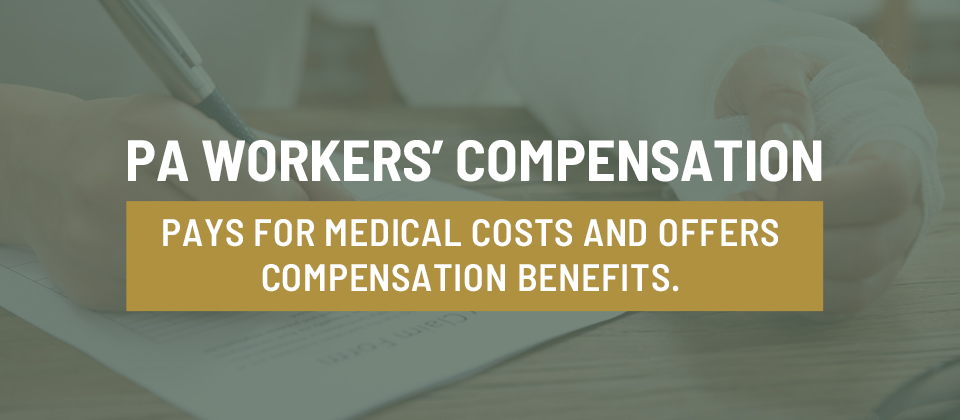 If you cannot work and you qualify, workers' compensation pays for your medical costs and offers compensation benefits amounting to two-thirds of your weekly wage (in most cases) to replace lost income until you return to work. For workers who are killed on the job, the Pennsylvania Workers' Compensation Act may provide death benefits for surviving dependents.
Pennsylvania Workers' Compensation Law
The Pennsylvania Legislature instituted the Pennsylvania Workers' Compensation Act in 1915, which states employees who have been injured on the job should receive compensation, regardless of fault. Even if you were at fault for the accident that caused your work-related injury, you are still eligible to receive workers' compensation benefits under the Pennsylvania Workers' Compensation Law.
Both employees and employers are protected under the workers' compensation system. In exchange for the injured employee receiving compensation for medical treatment and lost wages, the employer is protected from most lawsuits filed by injured employees. 
Under Pennsylvania law, workers' compensation is mandatory coverage for almost every employer. Employers without workers' compensation coverage can be sued by employees and criminally prosecuted. 
Employees are covered under the Pennsylvania Workers' Compensation Law for the entire time they are employed, meaning coverage will begin your first day working for your new employer. 
PA Workers' Compensation Act Overview
Workers' compensation in Pennsylvania is a type of insurance offered under the Pennsylvania Workers' Compensation Act. Almost every employee in Pennsylvania qualifies for workers' compensation through the Act — even part-time and seasonal employees.
Employers must carry workers' compensation insurance coverage for all eligible workers and must pay for this coverage themselves. You, the worker, do not pay for this insurance. Most employers get workers' compensation benefits through private insurance carriers or through self-insurance. Some also get coverage through a state-run insurance carrier, such as the State Workers' Insurance Fund. If your employer violates the law and does not provide coverage, you may be eligible for benefits from the Uninsured Employer Guaranty Fund in the event you are injured.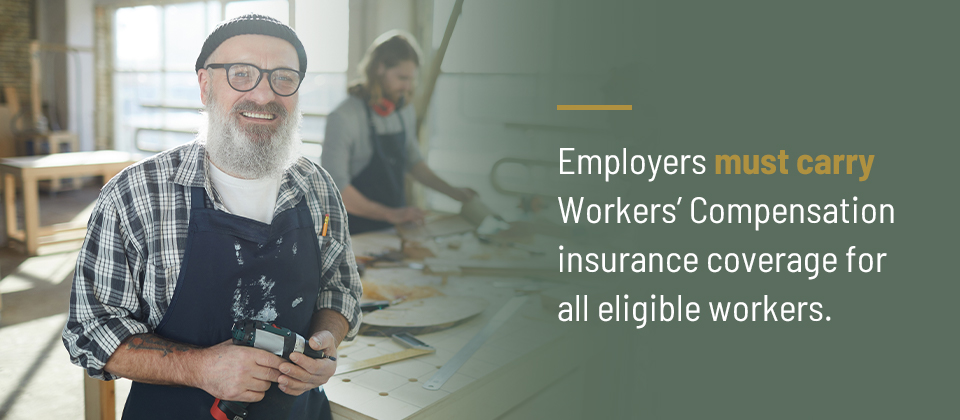 For some employees, like federal civilian workers, their workers' compensation coverage comes from other laws.
To provide workers' compensation, employers may be self-insured, or your benefits may come from a private insurance company or the Uninsured Employers Guaranty Fund. Your injury, illness or disease must also result from your work to qualify for workers' compensation benefits. In the case of death, your benefits are paid to your spouse.
Your worker's compensation coverage does not include the following events:
Intentional self-inflicted injury or death
Injury or death resulting from violating the law
Death or injury due to intoxication
A potential event that qualifies for workers' compensation is sustaining an injury while operating workplace machinery. Falling in your shower at home while getting ready for work is an example of an event that is not covered.
Who Qualifies for Compensation?
The best way to answer this question is to ask your employer. While most employers do have the necessary insurance to provide workers' compensation benefits, if yours does not, you may be able to receive benefits through the Uninsured Employer Guaranty Fund.
Some employees are also covered by compensation laws other than the Pennsylvania Workers' Compensation Act. These workers include:
Railroad workers
Shipyard and harbor workers
Federal civilian employees
Longshoremen
Employees who may not be covered under the Act include:
Domestic workers
Employees with a religious exemption
Some agricultural laborers
Many Volunteer workers 
Casual employees
If you were injured when you weren't at work or outside of work hours, such as on your lunch break, you may not qualify for workers' compensation. 
Which Injuries Do Not Qualify?
Not all injuries, diseases and illnesses caused by your job are covered under the Pennsylvania Workers' Compensation Act. So, what injuries do not qualify you for workers' compensation?
1. Injuries Resulting From Illegal or Non-Work Activities
If you're injured while engaging in horseplay or fighting with another employee at work, you may not qualify for workers' compensation. You're also unlikely to qualify for workers' compensation benefits if you were intoxicated or under the influence of substances at work when you sustained your injury.
2. Injuries That Occur Off-The-Clock
Injuries that occur while you're off-the-clock may not be considered qualifying injuries for workers' compensation. For example, if you take a lunch break or you have an appointment outside of work, you will not be eligible for workers' compensation if you are injured while off the premises or while you are traveling to or from your destination.   
There are exceptions for off-the-clock injuries, such as if you finish working for the day and you slip in the parking lot while walking to your car., if you are a travelling employee, are on a special mission, or at some employer sponsored events. 
Examples of Non-Qualifying Injuries 
An employer may not be held responsible for every single minor injury an employee may receive while on the job. An employer also isn't responsible for injuries that occur outside of work hours when an employee is not at work. Here are a few examples of injuries you shouldn't expect to be compensated for:
Paper cuts
Intentional injuries
Injuries sustained while playing a prank on a fellow employee
Injuries from a car accident during your commute home from work
Injuries during a non-mandatory social event outside of business hours
Fortunately, most on-site injuries do qualify for workers' comp, including pre-existing conditions.
Types of Workers' Compensation Benefits
Workers' compensation laws in Pennsylvania provide several different types of benefits, which include: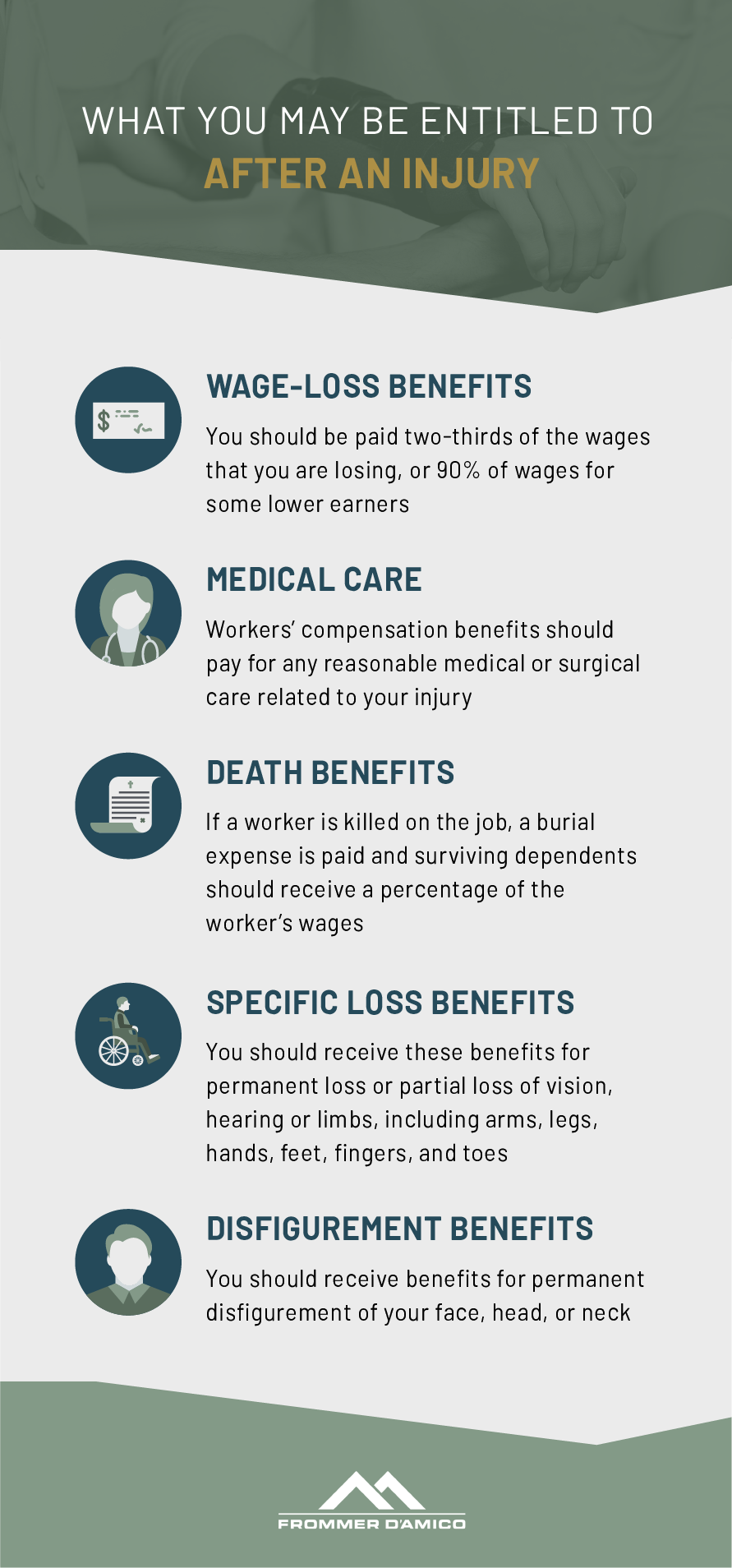 1. Wage-Loss Benefits
These benefits pay up to two-thirds of your average weekly wages after you have suffered a work-related illness or an on-the-job injury up to a weekly maximum. In Pennsylvania, a cost-of-living increase is not allowed for your wage-loss benefits payments.
2. Medical Care
Workers' compensation benefits pay for reasonable medical and surgical services related to your injury or illness. Other necessary medical services covered include:
Medicine
Hospital treatment
Orthopedic appliances
Prosthetics
If you choose to receive treatment outside of Pennsylvania, your costs may not be covered, so you will want to discuss your benefits and medical needs with your healthcare provider before agreeing to a specific treatment.
3. Death Benefits
If a worker is killed on the job, their surviving dependents may be entitled to workers' compensation death benefits. Dependents can include:
Spouse
Children under the age of 18
Parents
Siblings
Should your child be older than 18, they must either be a full-time student under the age of 23 or be a disabled dependent to qualify for benefits.
The amount issued to your dependents is based on their role. Your spouse is entitled to 51 percent of your average wage at the time of injury or illness. That percentage can increase to 60 if your spouse has at least one dependent and up to 66 and two-thirds if they have two or more dependents.
Payments will not go over Pennsylvania's average weekly wage.
4. Specific Loss Benefits
Specific loss benefits entail the permanent loss or loss of use of your extremities. Fingers and toes — as well as your arms, hands, feet and legs — qualify. Specific loss benefits also include loss of vision and impairment of hearing.
5. Disfigurement Benefits
Disfigurement benefits are provided for the permanent disfigurement of your face, neck or head area.
Medical Treatment Under PA Workers' Comp 
Wondering if you can visit any doctor after an injury and have workers' compensation pay for your visits? Well, you can choose your medical professional unless your employer has posted a list of a minimum of six or more health care providers and doctors in your workplace. This list must be posted in a public work area. If your employer has made a list available, you are required to visit one of their designated providers first. Treatment with that health care professional, or another from the list, must continue for the 90 days following your initial visit.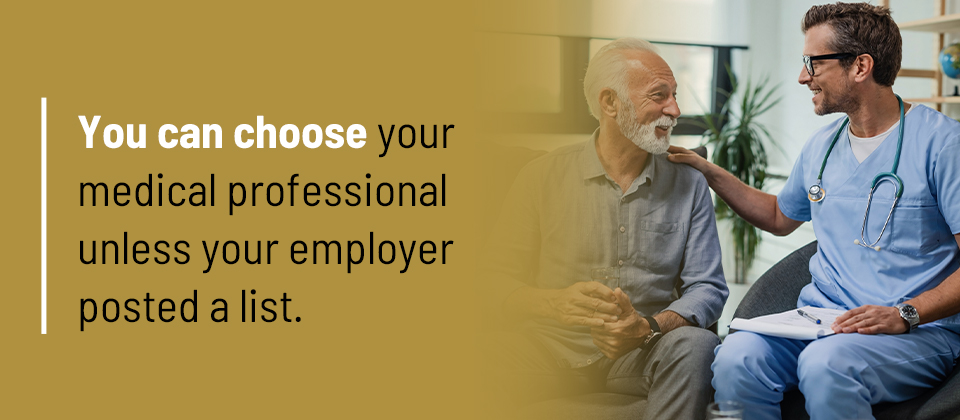 Should you choose to visit an unlisted provider, your employer or insurance carrier is not required to pay for the cost or treatments prescribed by that physician. Now, if a designated provider recommends an invasive surgery, you can receive a second opinion that your insurer or employer will cover. If you obtain treatment based on this second opinion, one of the listed physicians must provide it.
If your employer does not provide a list or offers an incomplete list, you may visit a health care provider of your choosing. You must inform your employer of the physician treating your injury, and your employer or their insurer will have the right to secure a monthly report from the doctor.
Once you have workers' compensation benefits, your insurer or employer may ask you to see a health care provider for an Independent Medical Exam (IME). In general, if you get a letter from the insurer or your employer asking you to see a particular provider, contact an attorney to ensure your benefits are protected.
Process Overview for Receiving Benefits 
If you are injured at your workplace, the process for receiving your benefits is as follows:
Notify your employer or supervisor of your injury or illness and the date and place in which it occurred.
Ensure your employer files a First Report of Injury (FROI) to the Bureau of Workers' Compensation.
Receive an acceptance or denial of your workers' compensation claim.
Should your employer deny your request, a claim petition may be filed with the Bureau of Workers' Compensation, which allows you a hearing before a workers' compensation judge. Many employees opt to file with the assistance of an attorney, as well as have that attorney represent their interests at the hearing.
If your employer approves your claim, you will receive wage-loss benefits. The amount does vary, but the maximum compensation that is payable in Pennsylvania — for 2017 injuries — is $995 per week.
Reporting your injury as soon as you miss a day, shift or turn of work is key to getting your benefits. If you do not notify your supervisor or employer within 120 days of your injury, you cannot receive your workers' compensation benefits. Petitions for denied claims have a longer access period. You may file a petition within three years of your date of injury.
When Will I Get a Check for My Injuries? 
In most cases, you can get your first check within 21 days of being away from work, and you will start receiving your checks regularly after that.' Receiving your first check is dependent on whether you filed your injury report quickly, your insurance carrier accepted the claim and if you missed more than seven days of work.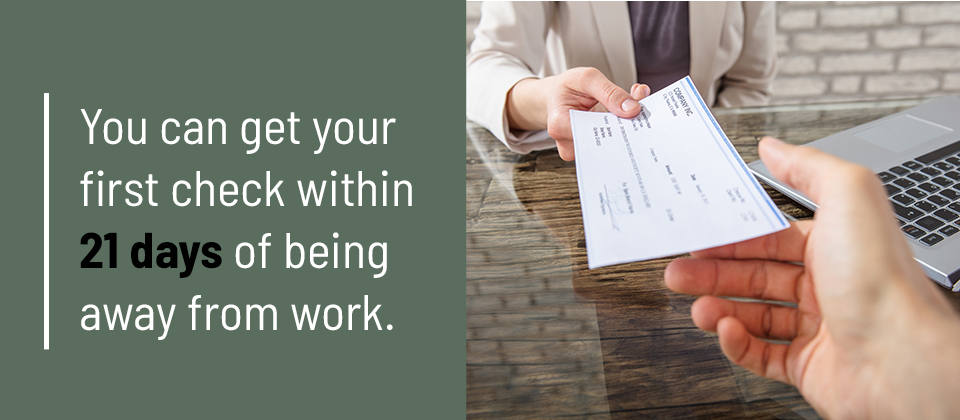 In other cases, the timeline to receive your first check may vary. Temporary compensation may be made for up to 90 days, even if your employer or insurance carrier doesn't accept your claim. If they deny your request, you can seek a hearing to petition it.
What If My Injuries Were Caused by My Employer? Can I Sue?
Sometimes, safety violations or other instances of negligence cause workplace injuries.  Since workers' compensation is a no-fault system, workers' compensation laws in Pennsylvania minimize the lawsuit risk for employers and coworkers. If you accidentally caused your injury due to carelessness, for example, you will still be eligible for workers' compensation. Alternatively, if your workplace was negligent, and this led to your injury, you may not be able to sue. This allows employers to avoid expensive lawsuits filed by injured workers.
If a third party, like the manufacturer of your facility's equipment or vehicle, caused your injuries, you may have a claim. To review all your options after a workplace injury, talk to an attorney. A workers' compensation lawyer can review your case and offer advice about legal steps you can take.
What Happens to My Workers' Compensation Benefits if I Return to Work?
If you return to your job and are earning as much as, or more than, you did before the injury, your wage-loss benefits will stop.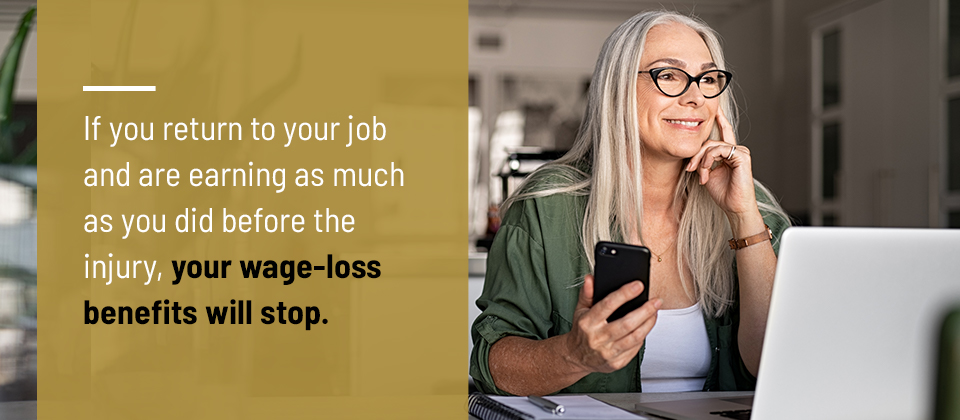 Other reasons for the conclusion of your workers' compensation benefits include signing a supplemental agreement or a ruling by a workers' compensation judge. Temporary compensation benefits will stop when your carrier or employer denies your claim, which would happen within 90 days after reporting your injury.
Partnering with an attorney, like the Frommer D'Amico team, ensures your questions about workers' compensation laws in Pennsylvania are answered. You also make sure your rights and benefits are protected.
Common Workers' Comp Problems
Workers' compensation benefits are meant to prevent some problems caused by a workplace injury. This coverage is designed to ensure workers get the benefits, medical treatment and money for bills they need while they're injured — without a long legal process. The coverage also protects employers from lawsuits.
Workers' compensation claims are not always seamless. Problems that can arise during the process include:
1. Changes to Your Benefits
Your benefits may change or stop for a few reasons:
Changes to your income: If you start receiving other benefits or income, this will affect how much you may receive through workers' compensation benefits. If your earnings and benefits are equal or are greater than your income before your injury, your workers' compensation benefits will stop.
Signing a final receipt: A supplemental agreement or final receipt is an agreement between you and your employer to stop workers' compensation payments.
Ruling of workers' compensation judge: The judge for your case may rule to alter or stop benefits after a hearing.
Updates to your injury or condition: If you are found to be able to return to work or another type of job, your benefits may be stopped. Your employer may also offer you a different kind of job to accommodate your injuries. These positions may not have the same income and career potential as your previous job.
If you feel your benefits have been stopped or changed without reason, consider contacting a workers' compensation attorney for advice.
2. Your Employer Has Not Paid for Your Coverage
Your employer may be legally required to pay for workers' compensation coverage for you — but what happens if they do not? You can contact the Bureau of Workers' Compensation to inquire about coverage under the Uninsured Employer Guaranty Fund. You will also want to consult with a benefits attorney in Pennsylvania to explore your legal options.
3. Your Employer Refuses the Claim
When you become injured or ill from your work, you need to report it to your supervisor, manager or employer without delay. Tell the relevant person at your organization about the place and date where the injury occurred and report that the injury was work-related. If you have lost time at work — at least a shift or day of work — your employer needs to file a FROI to inform the Bureau of Workers' Compensation.
The insurance carrier can deny the claim — and they have 21 days to do so in Pennsylvania. If they do, you may file a claim petition with the Office of Adjudication.
You may also want to speak to a workers' compensation attorney if your claim has been denied. An attorney can advise you about the best ways to build a strong case for a workers' compensation judge. They can also help you file a claim petition correctly and before the relevant deadlines. An attorney is aware of all relevant deadlines and can work to ensure you don't miss any of them.
4. You Lose Your Job
At-will employment does allow your termination at any time. If you are laid off while receiving your workers' compensation benefits, you are still entitled to your workers' compensation benefits and should continue to receive them.
Making Workers' Comp Benefits Work for You
If you have been injured in the workplace or have a medical condition or illness caused by your job, you may wonder how you will pay the bills and how you will support your family. You may be concerned about your job and future career prospects. Workers' compensation is designed to protect you by offering you benefits while you heal.
Applying for workers' compensation can be a complicated legal process. The skill, expertise and compassion of our team at Frommer D'Amico can make the process easier for you and your family. Our firm is focused and committed to handling workplace injuries and workers' compensation cases, which is why the Pennsylvania Supreme Court has certified each of our attorneys as a workers' compensation specialist.
At Frommer D'Amico, we treat you with care, professionalism and dignity. We don't put you on hold or make you talk to administrative assistants. When you work with us, you get a team that's willing to travel to Allentown, Altoona, Scranton, PA and other surrounding areas to meet with you.
We also respond to emails and phone calls promptly because we value your time, and Frommer D'Amico is proud to offer free case management as well as free initial consultations. If you'd like support as well as conscientious client care, contact Frommer D'Amico today to find out what our firm can do for you and your workers' compensation case.