Free Case Review Get the $ You Deserve
If you are out of work due to an injury suffered on the job and will receive workers' compensation, your first question is probably "How much do I get paid on workers' compensation?" You need to plan your budget for the coming months, so that's a very important question.
You will not receive your full salary while you're on workers' compensation. These benefits will pay a part of your salary. The payments are designed to help you get through a difficult time but not to compensate you as though you were working full time.
What percentage of your pay do you get for workers' compensation? It depends on when you applied for benefits. Read on to learn how workers' comp weekly benefits are calculated in 2021 and previous years. 
HOW ARE WORKERS' COMP BENEFITS CALCULATED IN PA? 
In many cases, workers who are injured on the job are entitled to two-thirds of their average weekly salary. But your benefits depend on where your salary falls within the weekly minimums and maximums established by Pennsylvania each year. That is based on the statewide average weekly wage. Rates are calculated based on a formula set up by the state. While the formula is the same for every worker, the amount they receive will be different since it's based on salary.
The maximums and minimums are based on statewide average weekly wages, as calculated by the Department of Labor & Industry. Pennsylvania recalculates these benefits every year. For instance, in 2014, the weekly maximum wage you could receive for workers' compensation was $932. In just five years, that amount rose by more than $100.
Of course, if you settle a workers' compensation case for a lump sum, you will not receive weekly workers' compensation payments. Instead, you'll agree to a total that may also cover your medical bills. The terms of every settlement are different, so your experience won't be the same as someone else, even if they suffered an identical on-the-job injury. Before accepting any settlement, you should always consult with a workers' comp attorney to make sure you get the best deal.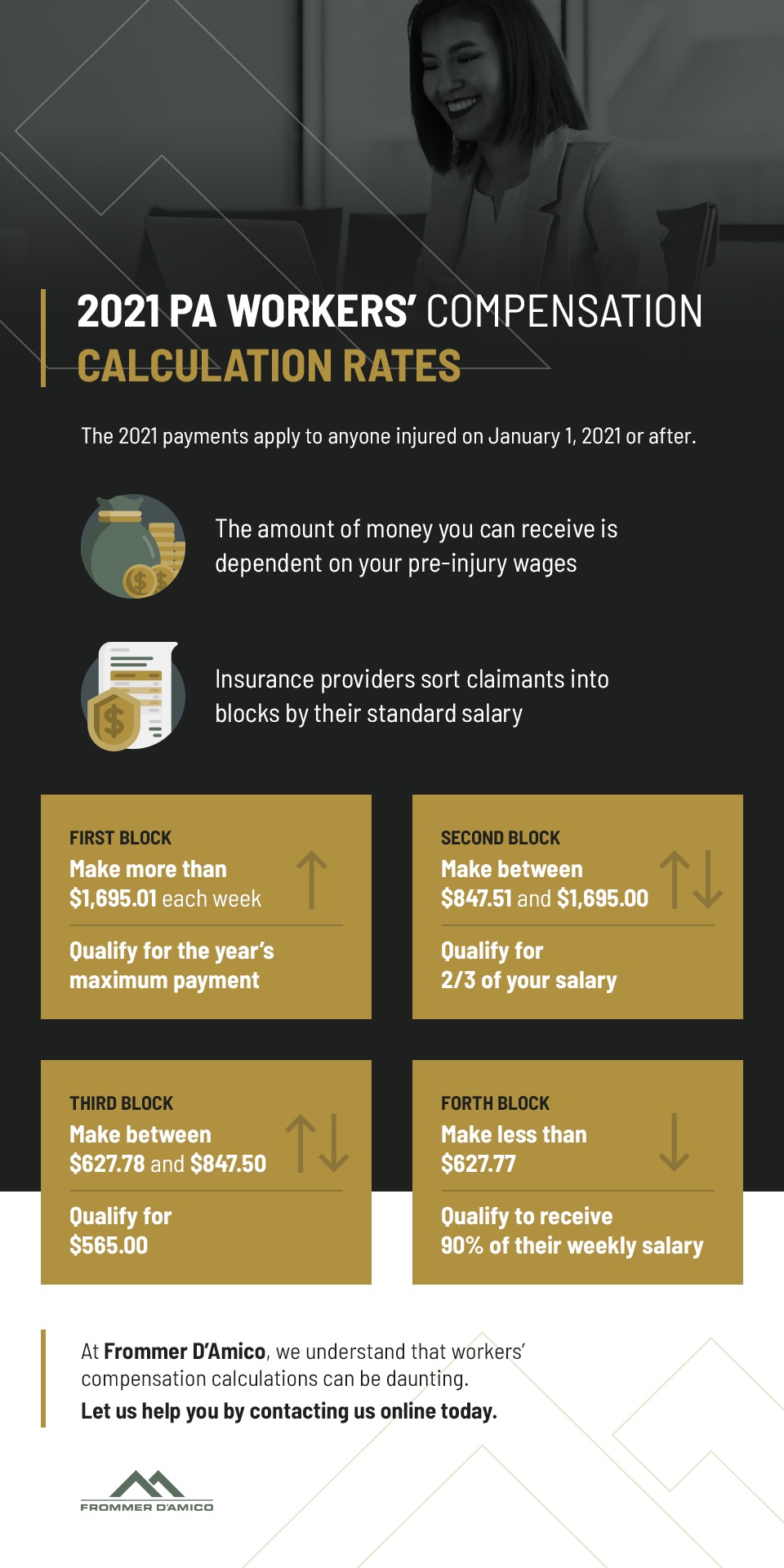 2021 PENNSYLVANIA WORKERS' COMPENSATION CALCULATION RATES
The amount of money you can receive from PA workers' compensation depends on your pre-injury wages. Insurance providers sort claimants into blocks by their standard salary. Regardless of how high your wages are, you may not receive more than the 2021 maximum workers' compensation rate for PA. Beneath the lowest threshold, all claimants receive a high percentage of their salary. 
Pennsylvania's Department of Labor & Industry set the maximum compensation rate for injured employees at $1,130.00 per week. This rate reflects a 4.6% increase from the average weekly wage in 2020. 
Employees in the first block make more than $1,695.01 each week, which qualifies them for this year's maximum payment. Those who qualify for the second block have a weekly salary between $847.51 and $1,695.00. Being in the second block makes you eligible for two-thirds of your salary. If you receive less than $847.50 but more than $627.78, you're in the third block, and you'll receive $565.00. Claimants who make less than $627.77 receive 90% of their weekly salary. 
Did you file for workers' compensation before 2021? In previous years, the payout amounts and the salaries included in each block were different. Use the information below to determine which benefits you may qualify for. 
At Frommer D'Amico, we understand that crunching the numbers can feel daunting, especially for new claimants and those with older cases. If you have questions, our legal team is available to answer them. No matter when you filed for workers' comp, you deserve the benefits you're entitled to. 
2020 PA WORKERS' COMPENSATION RATES 
The 2020 payments apply to anyone who is injured on Jan. 1, 2020, or after. In 2020, the maximum amount paid out to anyone in the state has risen compared with 2019. The high end is $1,081. The statewide average weekly wage rose 3.1% in 2020. 
If the employee makes $600.55 or less per week, then they are entitled to 90% of their weekly average salary. The less you make, the higher the percentage of income you will receive while you are injured. If your salary is high, somewhere between $810.76 and $1,621.50 per week, then you will receive two-thirds of that for your workers' compensation benefits. Workers' comp will pay $540.50 each week if your pre-injury earnings were between $600.55 to $810.75 a week in 2020.
PENNSYLVANIA WORKERS' COMPENSATION RATES IN 2019
 To figure out how much you would have gotten paid, grab a pay stub and use our directions to find the number.
Here's how PA workers' compensation benefits were calculated for 2019. First, figure out your average weekly salary from the year when the injury occurred. Then, see which category you fell into. If your average weekly salary was:
Above $1,573.50, then your weekly benefit would have been $1,049.00. That's the maximum weekly benefit that was available to anyone in the state.
Between $1,573.50 and $786.76, multiply that number by 2/3. The number you get would have been your weekly benefit.
Between $786.75 and $582.78, then your weekly benefit would have been $524.50.
Below $524.50, then multiply it by 0.9. The number you get would have been your weekly benefit.
2018 PENNSYLVANIA WORKERS' COMPENSATION RATES 
The maximum payout in 2018 was less than it is in 2021. Workers could bring home a maximum of $1,025 each week, no matter what they made at their job. The payout was once again adjusted based on your average income level. The more you made, the lower the percentage of your salary you retained. But if you made a lower salary, you got to keep more of it.
2018's maximum payout meant that if two-thirds of your salary were above $1,025, you wouldn't get any more money — your workers' compensation was capped.
Workers making between $768.76 to $1,537.50 per week in 2018 received two-thirds of that as their weekly benefit. Those who made $569.44 to $768.75 received $512.50 per week. And those who made less than $569.43 per week earned 90% of their salary in 2018. 
2017 PA WORKERS' COMPENSATION RATES 
In 2017, maximum workers' compensation benefits were below 2018's rates. In fact, they have risen year-to-year dating back to at least 2015. In 2017, the maximum benefit a worker could bring home each week was $995. 2018 marked the first time that number rose above $1,000. 
Those making $746.26 to $1,492.50 are paid two-thirds by comp. If you made $552.78 to $746.25 earned weekly benefits of $497.50. And workers whose weekly compensation fell below $552.77 were entitled to 90% of that salary for workers' compensation. 
PA WORKERS' COMPENSATION CALCULATOR
How much does PA workers' comp pay? If you're still not sure about Pennsylvania workers' compensation rates, you can use the workers' compensation calculator available through the Pennsylvania Department of Labor & Industry. This calculator shows the yearly compensation maximums and minimums.
Are you concerned about your workers' compensation payments or other aspects of your situation? Frommer D'Amico can help. Workers' comp cases are our specialty. We represent only employees — never employers — in these cases, and we offer lower fees. Get in touch with us today to discuss your case by calling 717-400-1000 or contacting us online — we look forward to helping you.
Updated 2/25/2021
Related Resources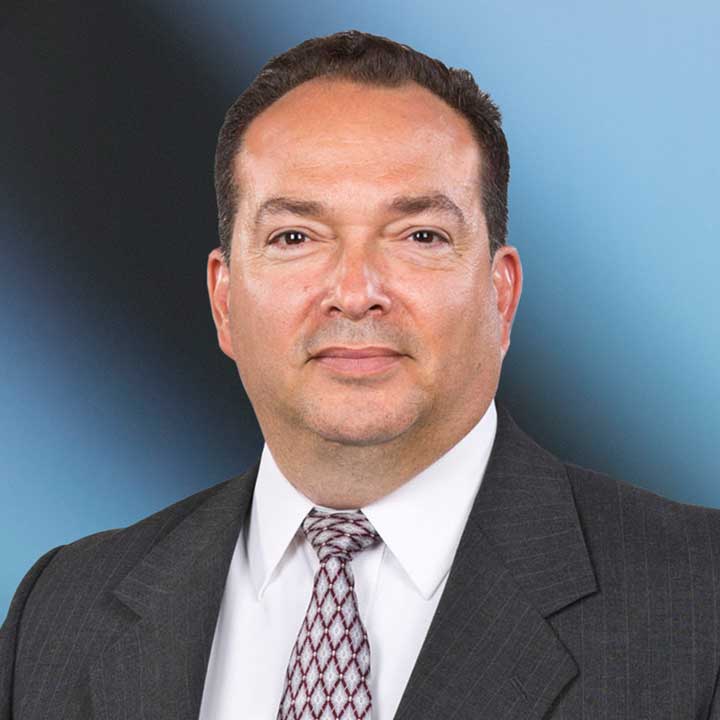 Joe D'Amico has more than 20 years of experience fighting for injured workers. He is Certified as an Expert in Pennsylvania Workers' Compensation Law by the Supreme Court of Pennsylvania. Joe is one of the very few Pennsylvania workers' compensation attorneys who have obtained a recovery in excess of $1.5 million for an injured worker.
Reviewed by Joe D'Amico.