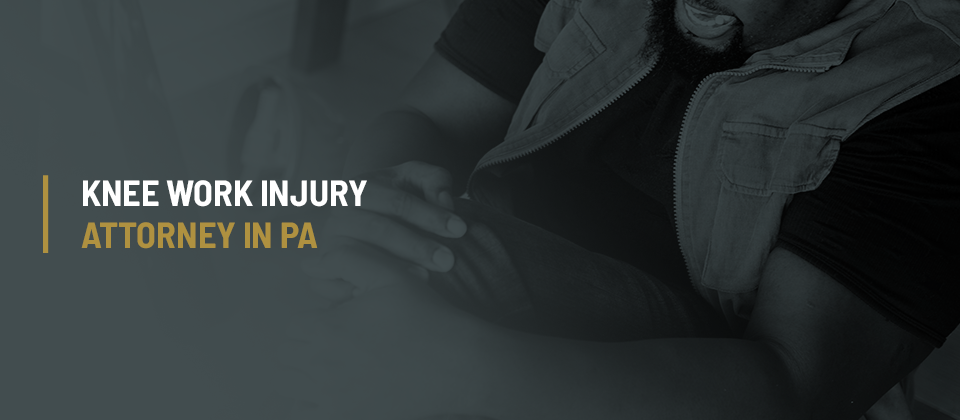 If you have sustained a severe knee injury at your place of employment, you are not alone. According to a report from the Bureau of Labor Statistics, in 2015,  more than 100,800 U.S. workers reported a workplace-related knee injury that kept them out of work for one day or longer. 
Knee injuries are painful and can impact your daily routine, as well as your ability to perform your required work duties. They can lead to a loss of wages and expensive trips to doctors and specialists. If you hurt your knee as a result of workplace injury, you have options — workers' compensation benefits may be able to help.
How to Start a Workers' Compensation Claim for a Knee Injury
You might get benefits or seek workers' compensation knee injury settlements if your work duties caused or aggravated your knee injury. To start a workers' compensation claim for a knee injury, follow these steps.
Report your injury immediately:To secure workers' compensation benefits, you must report the injury to your employer within 120 days. Be sure to notify your employer in writing and keep copies for yourself. When you report the injury to your employer, be prepared to explain how the incident occurred, as well as the date and location it happened. Your employer then must tell the Bureau of Workers' Compensation about your injury.
Provide proof: Visit your doctor to learn the extent of your injury and to obtain an official medical report. If any co-workers witnessed the injury, be sure to record that in your initial statement.
Follow up:Once you have seen a doctor and reported your injury to your employer and filed all necessary paperwork, follow up on your case to stay informed about your claim, its status and any benefits you may have coming. During this time, keep track of all injury-related expenses and changes in your routine.
Seeking workers' compensation can be an overwhelming process, but it is one worth your time. If you need help navigating the paperwork, dealing with the insurance company or have questions about your rights, reach out to a professional.
Having Trouble Getting Your Rightful Workers' Comp Benefits for a Knee Injury?
Many workers who suffer an injury to their knees have trouble getting workers' compensation for their knee injury in Pennsylvania. In some cases, their claim gets denied, or their employer uses an independent medical exam to determine the injury is not as severe as reported. Workers may feel pressured to return to their work duties before they are physically capable of doing so.
A workplace-related knee injury can also be costly. You risk losing wages, accruing medical bills and more. In some cases, wage loss benefits can be late. Needed medical coverage could get denied.
If you find yourself in any of these situations after suffering a serious knee injury at work, contact Frommer D'Amico. Our legal team of certified workers' compensation experts exclusively focus on workers' compensation claims and offer personalized attention to each client. For a free consultation, contact us online or call us at 717-400-1000 to speak to a member of our team today.
Jobs Where Knee Injuries Are Common

You can get injured doing any job, but some workplaces are more dangerous than others. Workers in the following careers are at a higher risk of obtaining a knee injury.
Construction: Construction is a dangerous — and physically taxing — job. Most construction-related knee injuries come from either traumatic falls or repetitive movements that slowly tear or inflame the tendons in your knee.
Medical professionals: Nurses and doctors work long shifts and spend very little of their work time sitting down. The job puts a constant strain on their feet and knees.
Delivery and transportation workers: Delivery and transportation require constant hauling, unloading and heavy lifting. 
Roofers: While working on a roof, roofers put pressure and weight on their knees as they kneel and bend. The nature of roofing gives tired knees very little rest from these movements.
Cleaners: Professional cleaners put stress on their knees when they kneel to scrub or detail the floor.
Bricklayers and floor installers: When bricklayers and floor installers do their job, they spend the majority of their day on their knees, working with heavy materials and tools.
Warehouse workers: Heavy equipment, falling objects and physical strain are all common causes of knee injuries in warehouses.
Athletes and dancers: Knee injuries are very common in athletes and dancers because even when these professionals are not performing, they are exercising, training or working their legs and knees.
Different Types of Knee Injuries
Any of the following serious knee injuries can cause mobility problems and weeks or months of lost time at work.
Dislocated kneecap: A fall or impact that causes the kneecap to leave its normal position can lead to dislocation. Healing can take six weeks or more. 
Tendinitis: Patellar tendinitis, or tendinitis of the knee, may require physical rehabilitation and surgery, in some cases.
A torn anterior cruciate ligament (ACL): Your ACL is one of four ligaments in your knee. An ACL tear can take a long time to recover from and may require rehabilitation. 
Bone contusions: A strong impact that allows fluid to accumulate causes bone contusions. In the knee, this can lead to swelling and loss of mobility.
Broken bones: You can break any of the three bones in your knee, including the kneecap.
Aggravated runner's knee or osteoarthritis: If you have an existing injury to the knee and your work duties aggravate it, you may qualify for workers' compensation benefits.
Injury to the meniscal cartilage: The meniscal cartilage provides padding to the knee area, and injuries to this C-shaped cartilage can cause balance and mobility problems.
Knee sprains: Knee sprains occur when you stress the ligaments of your knee, similar to a wrist or ankle sprain.
Symptoms of a Knee Injury
Knees are necessary for any work task that involves sitting, walking, lifting and mobility, so injuries to this part of the body can mean a significant loss of income. Treatment can require expensive surgery, as well as rehabilitation. Seeking workers' compensation benefits is essential to ensure you have coverage for these services. 
Common symptoms of a knee injury are:
Persistent pain
Noticeable swelling
Joint stiffness
Discoloration or bruising
Popping or snapping sound when you bend your knee
Inability to straighten or bend the knee completely
Treating a Knee Injury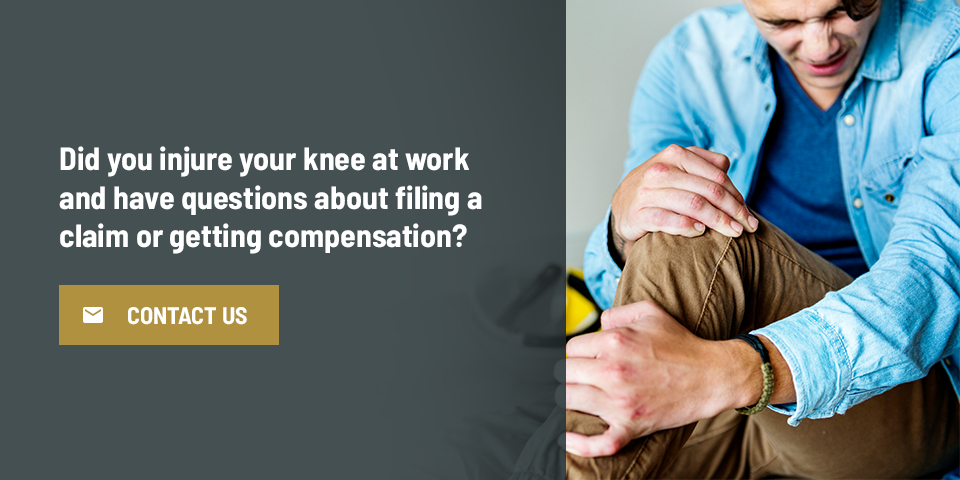 A knee injury can significantly disrupt your daily routine and your work performance. Because we use our knees so frequently, a serious knee injury can leave you in a lot of pain. There are some ways you can alleviate this discomfort after a knee injury. Talk to your doctor about the best treatment for your knee. Among the treatment options offered to you by your doctor, you may be recomended for:
At-home pain management: In addition to over-the-counter or prescribed pain medication, there are a few things you can do at home to lessen the pain of your knee injury. Avoid using your knee if at all possible, including limiting your movement and not using the stairs. You can use a brace, cast or crutches to relieve pressure from the area, allowing it time to heal and preventing further injury. The RICE method for at-home pain management — rest, ice, compression, elevation — can be helpful for a knee injury. 
Physical rehabilitation: For some knee injuries, such as an ACL tear, your doctor may recommend physical therapy or rehabilitation. A specialized doctor will help you develop a plan for healing and re-strengthening your injured ligament or joint.
Surgery: If your doctor recommends surgery to repair or replace your injured knee, do not put it off. Knee injuries can develop and worsen over time, leading to lifelong problems such as arthritis.
Prevention: Prevention is the best form of treatment. Wearing supportive, work-appropriate shoes and taking care to follow all safety guidelines are crucial factors in preventing knee injuries in the workplace.
Did you injure your knee at work and have questions about filing a claim or getting compensation? We are here to help, contact us today!