If you're injured on the job, you have rights in Pennsylvania, and you likely can seek workers' compensation benefits. You'll want to contact a Lewistown workers' compensation attorney if you have been injured due to your work duties and are having any concerns or problems with a workers' comp claim. An experienced attorney can file appeals and can seek to maximize your benefits. If you are looking for a workers' compensation attorney in Lewistown, PA, contact Frommer D'Amico for a free consultation, or call us at 717-400-1000.
The Types of Cases a Lewistown, PA, Workers' Compensation Lawyer Can Handle
Attorneys can handle many types of workers' compensation cases, including those stemming from:
Construction and heavy machinery accidents
Electrical injuries
Burns
Overuse injuries
Head and brain injuries
Fractures and amputations
Internal injuries
Hearing or vision loss
Wrongful death
Illnesses caused by work duties or work-related exposure
Injuries affecting specific parts of the body — such as the hands, legs and other body parts
Work-related transportation injuries
Agricultural and farm injuries
Office workplace injuries
Healthcare worker injuries
If your injury or illness was caused or aggravated by your work duties, you might be eligible for workers' compensation, regardless of the details or liable parties. If your injury was caused not by an accident but by malfunctioning equipment, long-term exposure to a toxin or repetitive motions, you might wish to consult with a workers' compensation law firm in Lewistown, PA, before filing a claim, since these cases can take more evidence to prove.
Contact Lewistown Workers Comp Attorneys
A Lewistown workers' comp attorney can also help you if your checks are late, if you're getting less than you deserve in benefits or if you're having any problems with getting your rightful benefits.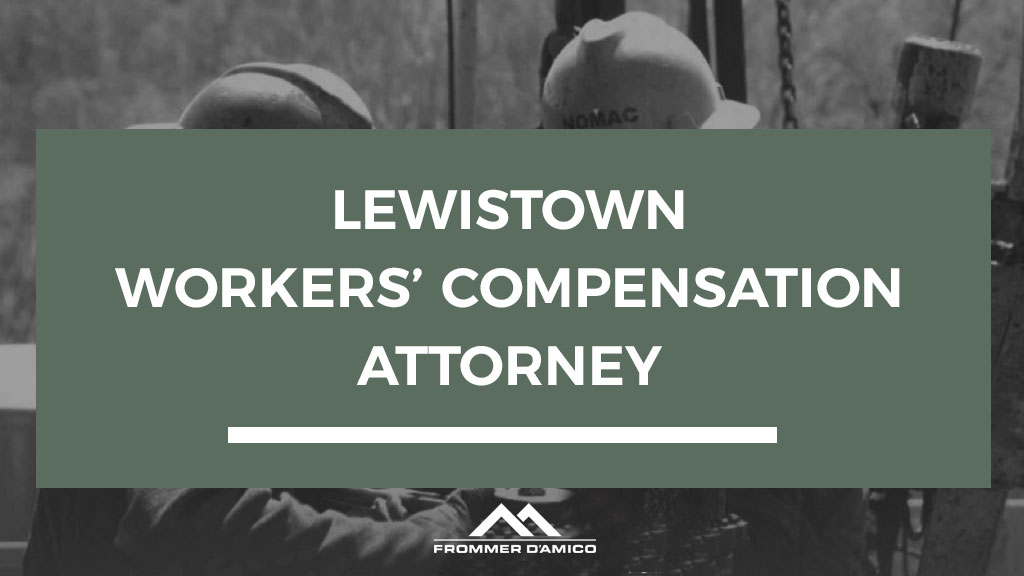 Finding the Right Workers' Comp Lawyer in Lewistown, PA
If you need to speak to an attorney about your workers' comp claim in Lewistown, contact Frommer D'Amico. Frommer D'Amico was established in 2012 and has recovered more than $50 million in workers' comp settlements for injured workers. The firm was built on the principle of treating injured workers right. We believe employees who are hurt on the job shouldn't be hurt again by the claim system, and we do everything possible to make sure we maximize benefits for our clients.
Unlike other firms, we do not take on multiple types of cases. Frommer D'Amico only takes on workers' comp cases, and we only represent injured workers — never insurers or employers.
Also, Frommer D'Amico does not charge case management fees — these are fees other firms charge for services such as reviewing injury description petitions, prosecuting late check penalty petitions, examining impairment rating evaluation petitions, looking over utilization review determination petitions, filing unpaid prescription penalty petitions and similar tasks. In some cases, these fees can amount to 20% of your weekly benefits check. By not charging you case management cost, we can save you thousands of dollars.
Contact Frommer D'Amico for a free consultation, or call us at 717-400-1000 to speak to a member of our team.