If you have been injured at work, your employer likely did not tell you your rights, but you may have a sense something is wrong. Perhaps you have been legitimately injured but are not getting the benefits you need. Maybe your wage loss benefits are delayed. You may feel pressured to return to work before your injury is better or worried about medical bills or lost income.
If you have concerns about your workers' compensation benefits or think you are not getting your rightful benefits, contact Frommer D'Amico to speak to a workers' compensation lawyer in Shippensburg. Our Pennsylvania attorneys are certified workers' compensation experts and can negotiate or seek an appeal to help you get your benefits.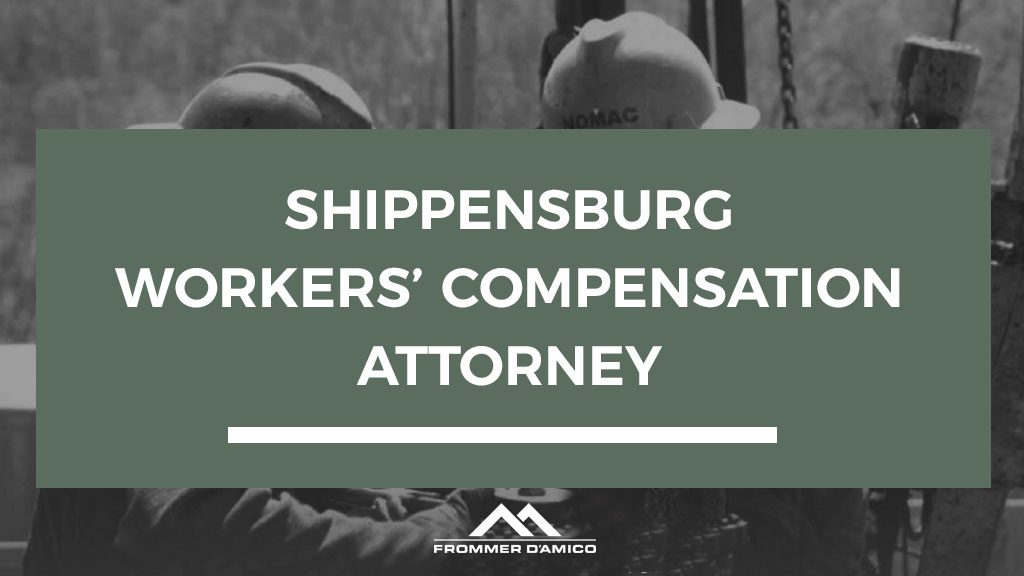 Help for Workers Injured on the Job
You may need workers' comp help in Shippensburg, PA, for a few reasons. If your claim was denied, you may need an attorney to appeal. You may feel you're getting less than the fair amount of lost wage benefits. Most workers get 66 percent of their average weekly wages from workers' compensation, up to a cap.
The way wages are calculated is important. A workers' comp lawyer in Shippensburg, Pennsylvania can ensure your injury was correctly described in First Report of Injury (FROI) and subsequent paperwork and that your wages were correctly tabulated.
If you have received a notice showing your employer is seeking an Independent Medical Exam (IME) or other actions, your benefits may also be at risk. It's critical to consult with an attorney to protect your rights. Frommer D'Amico can help, and we also have helpful, free resources and guides you can look at to get the facts about workers' compensation.
Contact Shippensburg Workers Comp Attorneys
Hire a Trusted Workers' Compensation Attorney in Shippensburg
If you're considering working with workers' compensation attorneys in Shippensburg, PA, keep in mind that not all attorneys offering workers' compensation as a practice area have the same level of experience. Frommer D'Amico specialize only in workers' comp cases, and they only represent injured workers — never insurance companies or employers. In addition, our attorneys are certified workers' compensation experts and have decades of combined experience.
You may have concerns about the costs of working with a Shippensburg workers' compensation lawyer, but Frommer D'Amico does not charge you case management fees. This fact can save you thousands of dollars because you are not paying an attorney for prosecution of petitions or advice. With no case management fees, Frommer D'Amico allows more of your benefit money to end up in your wallet, where it belongs.
Frommer D'Amico team members are also responsive and willing to meet you where you are. If you cannot travel for a consultation, our team can travel to you. In each case, we create a customized approach to ensure you get the best chance for fair compensation and benefits.
Get started today. Reach a Shippensburg workers' comp lawyer by contacting Frommer D'Amico or calling us at 717-400-1000 for a free consultation.