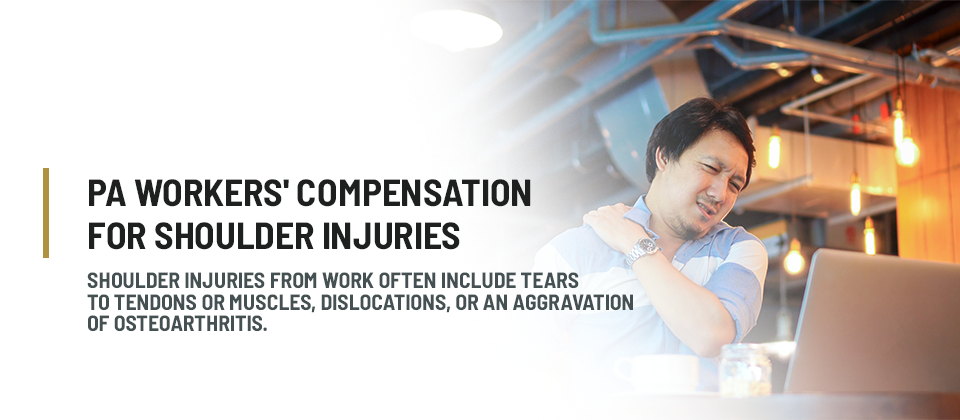 Shoulder injuries from work often include tears to tendons or muscles, dislocations, or an aggravation of osteoarthritis. These types of injuries may be the result of trauma, repetitive work over time or both.
The Pennsylvania Workers' Compensation Act does recognize injuries from both causes. Symptoms of a shoulder injury are not always limited to the shoulder. You may feel pain, weakness or "heavy" symptoms into your bicep or elbow. Likewise, sometimes there is crossover with neck injuries. That is, sometimes a neck injury can cause shoulder symptoms, or a shoulder injury can cause symptoms into your neck.
Treatment may include therapy, medications, restriction of activities, injections or surgery. In some cases, a partial or total arthroplasty (joint replacement) may be needed. Insurance companies will often deny payment for a shoulder or joint replacement. Our office has handled many such cases to compel payment of a joint replacement.
Workers' Compensation for Shoulder Injuries Requiring Surgery
Treatment for shoulder injuries varies depending on the severity of the injury. You may need surgery to repair a torn rotator cuff tendon, for instance, which could require weeks off when you add together the time for the surgery and the rehab. Your employer can't make you go back to work before you're ready. A doctor will determine when that may be, but you should take your recovery seriously. Don't try to return to work before you're physically able to handle the job, or you'll risk exacerbating your injury.
Workers' compensation will cover part of your wages and medical bills while you heal. It's designed to allow employees to regain their strength and be ready to contribute fully upon their return to work. Unfortunately, insurance companies don't always want to pay the benefits on workers' comp and may claim that you're not really injured or didn't sustain the injury on the job. In these cases, you can fight the ruling with the assistance of a top-notch lawyer.
Workers' Compensation Shoulder Injury Settlements
Your employer may try to offer you an initial settlement for your workers' compensation case rather than watching it play out for weeks. You may feel tempted to take this money because it may sound like a lot to you, and you likely don't want your case to drag on either. But sometimes companies low-ball employees with their offer. You should never accept a deal without first consulting with your lawyer. Let them look over the proposed package before you agree to anything.
Contact Our Shoulder Injury Workers' Comp Lawyers Today
Frommer D'Amico handles only workers' compensation cases. Our experienced staff is board-certified in this area, and we do not represent employers — only employees. We pay personal attention to every case, and we care about assisting you. We want to know everything about your case and your unique circumstances in order to secure the best possible outcome for you.
The advantages of choosing Frommer D'Amico include low fees and 24/7 accessibility — you can reach us every time you need us. We'll travel to you for meetings too. Let us aid you in your case — contact us online or by calling 717-400-1000 to set up your initial consultation.
Why Shoulder Injuries Happen
Workers experience several different kinds of common shoulder injuries. The severity of the injuries varies from dislocations and strains to mobility impairment and frozen shoulders.
The most common symptom of any type of shoulder injury is pain. Other symptoms that people notice include numbness, decreased range of motion, stiffness, and tingling. Injuries to the shoulder can be caused by:
Lifting an item that is too heavy
Lifting items awkwardly
Working in awkward positions
A slip or a fall onto the shoulder
Performing repetitive tasks that require the worker to keep their hands over their shoulders
Using power tools and heavy machinery
Blunt trauma
Shoulder injuries are treated in several ways. Minor shoulder injuries can be treated with rest and over-the-counter medications. Serious shoulder injuries frequently require surgery. It's important for any worker who suffers any kind of shoulder injury to immediately stop the task that may have caused the injury and seek medical attention.
Common Shoulder Injuries

Work-related shoulder injuries can often be extremely painful. Some of the more common types of shoulder injuries include:
 Fractures. A fracture can result from a slip or a fall on a wet floor at work or if a heavy item falls on the shoulder. Fractures are normally immobilized and treated with pain medication, although a severe fracture may require surgery.
Impingement. Workers, such as painters or auto mechanics, who frequently work with their hands above their shoulders may irritate the tendons that surround the muscles of the shoulder. Ice, pain medication and physical therapy are the most common treatments used to treat impingement.
Rotator Cuff Tears. A common soft tissue injury is a tear in the rotator cuff, the tendons and muscles that provide the shoulder with stability. A rotator cuff tear can lead to a dull ache in the shoulder, weakness in the arm and even trouble sleeping. Conservative treatments include icing, pain medication and physical therapy, but if the shoulder does not heal, it may require surgery. The possibility of getting a rotator cuff injury also increases with age.
Dislocation. Dislocation happens when the upper arm pops out of the shoulder socket. It can happen in a slip or fall or if a heavy object falls on the shoulder. Dislocations are troublesome because once one has happened, it's easier for it to happen again in the future. Ice, pain medication and physical therapy are some of the most common treatments.
Bursitis. The bursae are the small fluid-filled sacs that cushion the tendons, muscles and ligaments around the shoulder. Bursitis occurs when the bursae become inflamed. The pain can sometimes be disabling and even result in a fever. Rest, pain medications, physical therapy and cortisone injections are normal treatments. In some situations, the bursae need to be drained via surgery.
Industries Where Shoulder Injuries Are Common
A shoulder injury can happen to any worker in any industry. There are some industries, however, where a shoulder injury may occur more frequently, such as:
Construction. Construction jobs often require heavy lifting, pushing, using vibrating equipment and working with the arms above the shoulder. There's also the danger of a heavy object falling on the shoulder at construction sites.
Auto mechanic. Auto mechanics frequently need to work with their arms above their shoulders, which can lead to a variety of shoulder injuries.
Painters and Carpenters. Painters and carpenters frequently work with their arms above their shoulders and often in awkward positions which can cause shoulder pain.
Nursing. Lifting of patients or pushing heavy objects can often lead to shoulder problems for nurses.
Warehouse. Workers in warehouses not only deal regularly with lifting heavy objects but also must frequently work with their arms above the shoulders. They can also slip and fall in the workplace if it is not properly maintained.
Athletes. Athletes who play sports such as tennis or baseball frequently suffer rotator cuff injuries.
If you sustained a shoulder injury while on the job get in touch with us. Our attorneys can help with your questions, all consultations are absolutely confidential.