Workers' Compensation and Surgery Coverage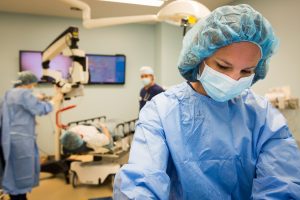 Will the Cost of My Surgery be Covered by Workers Compensation?
In Pennsylvania, workers injured on the job will have their medical expenses covered if they see a physician on a list posted by their employer. These selected providers are supposed to be the providers the injured worker may choose from. For the first 90 days after an initial appointment, the idea is that the injured worker will get treatment from a doctor on this list. After this 90-day period, an injured worker can visit another physician and workers' compensation benefits will cover those visits.
There is no legal obligation to only visit a doctor on this list, however. If an injured worker wants to go to a provider not listed, they can do so. However, their visits and treatments will generally not be covered by workers' compensation benefits.
In addition, for the 90-day rule to apply, employers need to follow two other rules:
The list of physicians must be posted in a visible place.
The employer must get the employee to sign a notice stating the employer understands the 90-day rule. There are two signatures required to this effect — one when the employee is hired and another after the injury occurs.
If an employer fails to abide by these rules, an injured employee may not be obligated to visit a doctor on the list in the first 90 days. Outside of the 90-day period, an injured worker can choose any provider and have that provider be paid by workers' compensation benefits.
The 90-day rule is especially important when considering surgery. If a worker is injured in the workplace, consults the posted list of physicians and goes to one of those physicians, the provider may recommend invasive surgery. If this is the case, the employee has a right to a second opinion. This second opinion will be paid for by the insurer or employer.
If, within the first 90-day period, both a listed provider and a second opinion (if you seek one) recommend surgery and your surgery is scheduled within the first 90 days of your injury, you may need to have the surgery performed by a listed provider, provided there is a qualified provider on the list. Outside the 90-day period, you can choose a surgeon not on the list.
What if the Insurer Doesn't Pay for My Surgery?
Workers' comp surgery coverage pays for all reasonable medical treatments and costs, including surgery. The problem is that some insurers or employers may refuse to pre-approve medical treatment, such as surgery, or may act to terminate benefits while the injured worker is trying to schedule needed surgery.
If this happens to you, contact My Comp Lawyers for a free consultation to find out how to protect yourself from a workers' comp surgery denial.
Should I Settle?
If you are considering a workers' comp surgery settlement, consult with My Comp Lawyers. You don't want to be caught in a situation where your settlement does not cover your anticipated surgery costs. You may want to wait for a workers' comp settlement until after surgery to get a better estimate of expected total injury costs.
If you have questions about workers' comp surgery approval, pre-approval or coverage, contact My Comp Lawyers for a free consultation.