You might think of an office as being a "safe" work environment, but this isn't always the case. Falling is a common hazard in many office environments.
According to the Centers for Disease Control and Prevention, office workers are up to 2.5 times more likely to experience a fall-related injury than non-office workers. The leading causes of office falls include slipping on wet floors, reaching for something while on an unstable chair, tripping over objects such as loose carpeting or electrical cords and standing on a chair instead of using a ladder to reach items stored up high.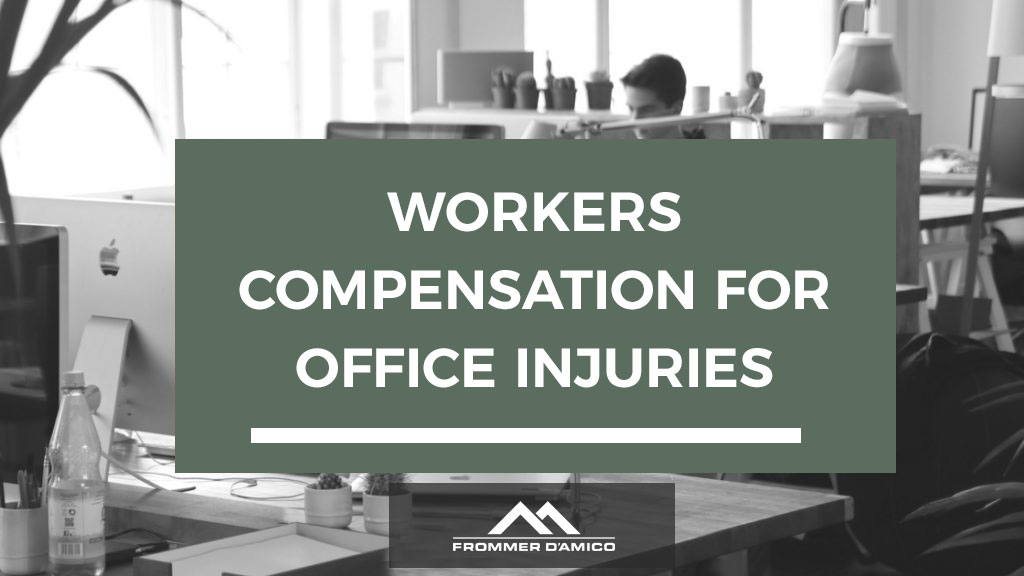 As office workers spend much of their time on their computers, workplace injuries can also from ergonomically incorrect workstations — examples include back ailments and carpal tunnel syndrome, a painful, potentially debilitating affliction that develops over time. Other leading causes of office injuries and illnesses include poor indoor air quality, excessive noise, electrical shock and acts of violence by coworkers.
Getting Workers' Compensation After Being Injured on the Job
If you're a Pennsylvania office worker and have suffered a work-related injury or illness, you may be eligible for workers' compensation benefits. Under workers' comp law, you can receive wage-loss benefits equal to two-thirds of your average weekly pay and complete coverage for your medical bills. Compensation is also available to cover a "specific loss," such as the permanent loss of use of a hand, arm or foot, as well as to surviving dependents if an illness or injury results in your death.
To qualify for benefits, report the injury or illness to your employer immediately and inform them of the date and place that the incident occurred. Once you miss a day or shift of work, your employer must report the injury to the Bureau of Workers' Compensation. Your employer will also supply a list of six or more health care providers. You must seek initial treatment from one of the listed providers and continue treatment with them for a period of 90 days following the first visit.
Workers' Compensation Benefits Can Be Difficult to Obtain
Even if you follow all the procedures and report your injury or illness promptly, there is no guarantee your employer and its workers' comp insurance carrier will approve your claim. Even when covered by insurance, workers' compensation claims create additional expenses companies often attempt to avoid. Your employer may try to prove your injury isn't severe enough to cause you to miss work, or that it resulted from a non-work-related activity.
Legal Help Is Available for Your Workers' Compensation Claim
If you're an injured office employee, workers' compensation benefits can help you avoid financial disaster. If you feel that your employer is trying to prevent you from receiving these essential benefits, you should enlist the services of an experienced workers' compensation attorney.
Frommer D'Amico has helped PA office workers as far west as State College and to the eastern, northern and southern borders receive the benefits they deserve. Our attorneys are certified workers' compensation experts who are available 24/7/365 to assist you. 
Contact Us to Schedule a Free Initial Workers Compensation Case Consultation
If you're injured at work and need compensation, contact the PA workers' comp experts at Frommer D'Amico to schedule a no-obligation initial consultation right away. We're available to travel to meet you and discuss your case in person.