Do you want to know more about workers' compensation or liability for a slip and fall on work grounds? You're not alone in this search. 
Slip, trip and fall incidents at workplaces are common in the United States. In 2021, the Pennsylvania Bureau of Workers' Compensation received 161,592 work-related injury reports. It's essential to report unsafe working conditions. Whatever the case, you may claim compensation regardless of fault if you get injured in a workplace accident.
This article is a comprehensive tool to assist you in learning more about slip-and-fall incidents at work and the steps to take in such situations.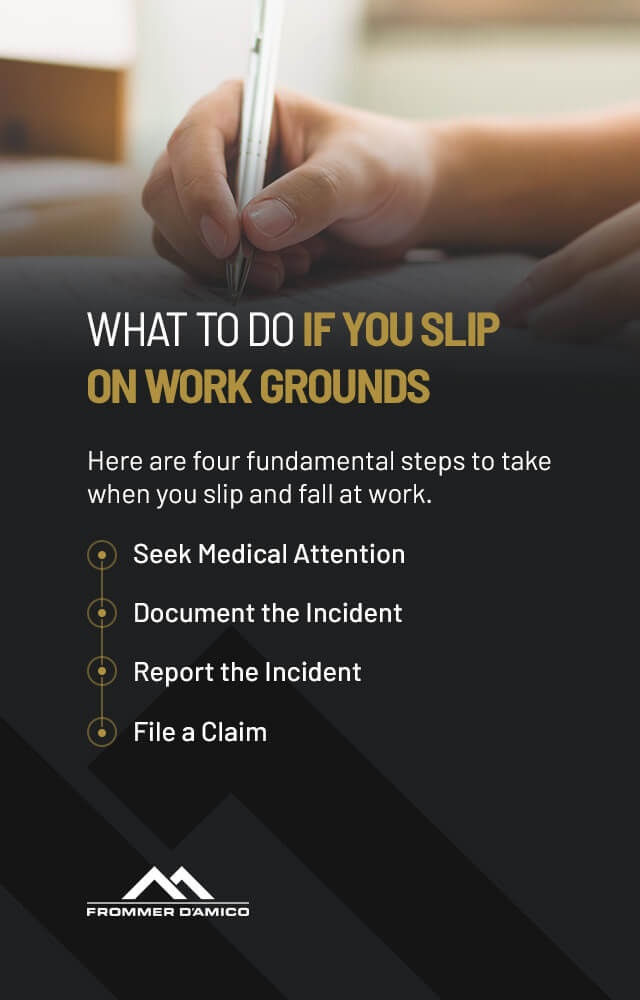 What to Do if You Slip on Work Grounds
Here are four fundamental steps to take when you slip and fall at work.
1. Seek Medical Attention
The first thing to do is to attend to your body. Seek assistance from passersby or on-site health care providers and request first aid. Make a quick phone call if you're alone and immobile.
Next, go to the hospital for medical care. Your employer may require you to choose a doctor from a provided list within 90 days. After 90 days, you're free to choose your physician.
Visiting a medical professional is vital for several reasons. First, experienced health providers are best-positioned to provide you with medical care. You'll need your health intact to proceed with the other steps of filing a workers' compensation claim. Secondly, you may require evidence, such as a doctor's report, to corroborate your story and describe the care you received. Be sure to tell the doctor that your injury is job-related. 
2. Document the Incident
Speaking of evidence, you must gather sufficient credible information to assist you in making a claim. Begin by documenting where the incident occurred and whether that location is within the employer's care or control. Next, note the state of the environment at the time the incident occurred. For instance, was the ground slippery? Was there sufficient visibility in the area? Did damage at the scene cause the accident? 
Take pictures and videos of the accident scene, particularly the cause of the incident. Ensure they are clear and visible. If there were any witnesses, get their information, such as names and contact details. Determine whether they witnessed the accident firsthand or know the state of the environment. Don't worry too much about how relevant the witness is to your case. Your attorney will take care of that. Keep records you receive along the way, such as medical reports and employer's replies.
3. Report the Incident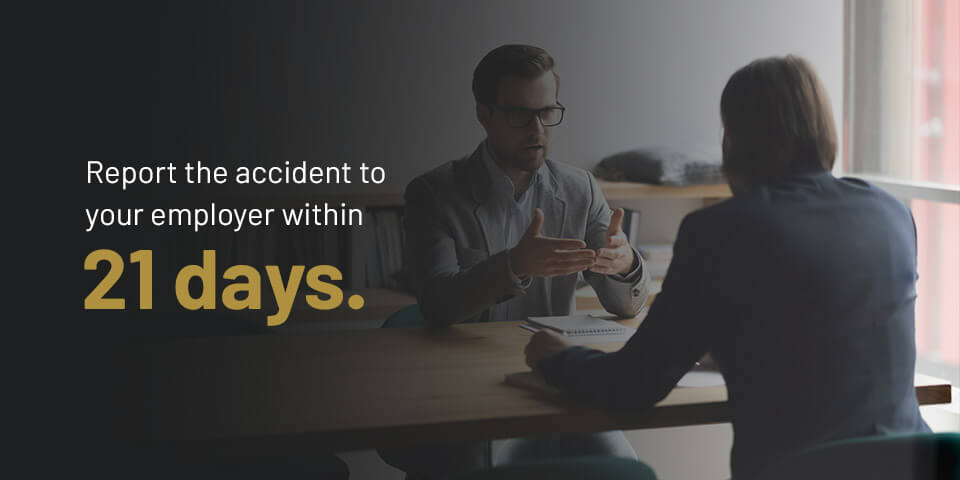 Report the accident to your employer within 21 days. The insurance carrier must accept or deny the claim within that period. When you make the report within the specified period, you can receive benefits from the date of injury. Otherwise, you'll receive benefits from the day you made the report so long as the injury is reported within 120 days. Also, you have 120 days within which you may seek benefits at all. 
Some employers may require you to fill out a form and provide documents. A verbal report is also acceptable. In that case, ensure there are witnesses to testify if needed. If the paperwork is complex or confusing, ask your attorney for legal advice. 
Making reports establishes a timeline and brings the employer's attention to the accident. A formal report, especially in writing, may also corroborate your claim, especially if other workers have filed similar complaints. 
4. File a Claim
The process to recover benefits for your injury or loss begins by filing a claim with the Pennsylvania Department of Labor and Industry. Your employer must file a First Report of Injury with the Pennsylvania Bureau of Workers' Compensation within seven days. If the incident results in death, the employer must notify BWC within 48 hours. If your employer fails to file the FROI, ignores you or denies your claim, you have three years from the date of injury to file a claim petition.
Your employer must notify its insurance carrier of the incident within 21 days. The insurance carrier may accept or deny the claim. If your employer and insurance deny liability, you have three years from the date of injury to file the claim petition.
Your employer may be willing to settle the matter. You may need an attorney to help you negotiate. 
What Are the Most Common Slip-and-Fall Accidents at Work? 
The most common causes of slip, trip and fall accidents at the workplace include:
Icy ground
Loose carpeting or flooring
Broken, cracked, wet or uneven floors
Sharp edges on walls
Potholes in the parking lot or garage
Spills — grease, oil, liquids and so on
Weak or damaged furniture 
Dark spaces or poor lighting
Loose cables
Debris on the floor
Plumbing leaks and breaks
What Are the Most Common Injuries at Workplaces?
The most common slip-and-fall injuries are:
Fractures 
Concussions
Spinal cord injury
Head injury
Paralysis 
Shoulder injury
Sprained ankles and wrists
Internal bleeding
Dental injury
Death
How Do You Prevent Slip-and-Fall Accidents and Injuries at Work?
Accidents are unexpected but sometimes predictable. Employers are responsible for treating their employees' health, safety and general well-being as paramount. 
The following are ways to prevent work-related injuries:
Routinely maintain and clean the workplace and its immediate surroundings.
Use clean carpets and grip materials on slippery floors.
Create access for people with disabilities.
Mark wet floors with visible signs as soon as possible. 
Turn on lights during work hours and ensure all spaces are well-lit.
Clean up spills immediately.
Fill potholes to prevent slips and falls in the parking lot. 
Keep the entire office space well-lit with natural and artificial lights.
Secure all cables and wires in the open or around office furniture.
Keep walkways free from obstacles.
Take note of changing weather conditions.
Check if there are visible nails and sharp objects in the walls.
Ensure all office furniture is in good shape and replace old or broken pieces immediately.
Repair broken floors and staircases. 
What Are the PA Laws on Work-Related Injuries?
In Pennsylvania, the Workers' Compensation Act of 1915 requires employers to provide workers' compensation coverage for their employees. Some people, such as federal civilian employees, railroad and shipyard workers, are not eligible for benefits under this Pennsylvania law.
Employers pay for workers' compensation insurance. You may claim income loss, death benefits, medical bills, specific loss benefits, disfigurement benefits and subsequent injuries. Uninsured employees may file a claim with the Uninsured Employers Guaranty Fund. If you learn that your employer does not have workers' compensation insurance in Pennsylvania, you should immediately contact an attorney because there are very specific forms and notices that must be filed very shortly after you learn that your employer is uninsured.
If your employer refuses to pay for injuries you sustain at work, you can hire an attorney to represent you and take your case to court.
What Is the "Hills and Ridges" Doctrine for Snow- or Ice-Related Falls?
In some circumstances, you may be eligible to file a claim for falls that occurred in snowy conditions, such as a slip and fall in a parking lot or on a sidewalk. In that case, the claim will be against the property owner, who may or may not be your employer. To file a claim against a property owner, you must demonstrate that they acted negligently. 
In Pennsylvania, property owners have a reasonable time to warn visitors or remove ice from their property. The governing law is the "hills and ridges" doctrine.
This statute applies to paved areas on properties, seeking to protect owners from liability for general and unexpected slips. For the property owner to be liable, you must establish three elements:
The snow and ice accumulated around where you fell, creating unreasonably large ridges and elevations that obstructed travel and posed a danger to pedestrians.
The property owner was aware or should have been aware of the accumulation.
The snow and ice are responsible for your fall.
Property owners owe visitors a duty of care. However, that varies depending on the kind of visitor or their legal status.
Invitee: This person comes onto the property for the owner's economic gain. An example is the property owner's customer. Property owners owe invitees the highest standard of care and must take steps to protect them from harm. The property owner must inspect and keep the premise safe and warn visitors of dangers.
Licensee: This visitor has permission to be on the property and receives no mutual economic benefit from the owner. An example is a guest visiting a friend. The property owner must keep the premises safe and free from dangers and warn visitors of known hazards.
Trespasser: This visitor has no legal right or permission to be on the premises. The property owner owes trespassers the lowest standard of care. While the law does not require owners to warn trespassers of danger, they cannot deliberately create threats to harm people who trespass.
Who Is Liable for a Fall at Work?
Most work injuries are covered by Employers regarding of who was at fault. Whether your were at fault or your employer was at fault, you are entitled to Pennsylvania worker's compensation benefits in most cases. However, you may be able to sue another entity other than your employer if someone other than your employer was responsible to maintain the area in which you were injured. Another company, other than your employer, may be liable to workers or users of the premises for personal injuries. To be successful in such an action, you must establish that the the other party acted negligently. There are four elements of negligence.
Duty of care:  A duty to people to ensure that the workplace is safe and conducive for work. In other words, your employer must maintain the workplace to avoid expected personal injuries. The level of safety precaution required depends on the kind of work.
Breach of duty of care: You must prove that the other party's acts or omissions led to the injury. In other words, your the other party acted below the standard of care required to provide a safe working environment.
Proximate cause: The other party's breach of duty must be the principal cause of your injuries. Thus, if other factors are responsible for your injuries, the action may not succeed.
Damages: The injuries you incur must cost you losses such as lost wages and medical bills. 
In certain instances, your actions as an employee may reduce or completely relieve the other party's liability. Two defenses available to the other employer are contributory negligence and comparative negligence. 
Contributory negligence means you cannot file a claim against the other party if you are more responsible for or contributed to the injury. On the other hand, comparative negligence partially relieves other parties of their liabilities. Thus, you may only file a claim for the other party's percentage of fault. But there's more to know about comparative negligence.
Comparative negligence falls into two categories — pure and modified. In pure comparative negligence states, the plaintiff may claim 1% damages even if they were 99% negligent. Modified comparative negligence states, such as Pennsylvania, limit the employer's liability to their degree of fault. First, if you contributed to the injury, the law permits you to claim where your fault is not greater than the other party's. Your fault must not exceed 50%. Again, the court will diminish any damages you sustained according to your level of negligence. 
How Long Does a Workers' Compensation or Lawsuit Take?
A workers' compensation claim may take a year or two to receive benefits. However, several factors affect the duration. For instance, when your employer fails to file the FROI, you have up to three years to do so. If you delay filing a claim petition, your claim might take longer than usual to settle. The same applies to settling the matter out of court.
The statute of limitations for workers' compensation claims in Pennsylvania is three years from the date of injury. The legal action may take one to three years, depending on the circumstances.
What Is Your Fall Worth?
You are entitled to the payment of work related medical treatment that is reasonable and necessary. You are also entitled to a percentage of wage loss suffered as a result of lost wages while under a physician's care. The statewide average weekly wage for workers' compensation in 2022 is $1,205. The amount you can claim depends on the circumstances of each case. Regarding a settlement, it could range from a few thousand dollars to millions for catastrophic injuries. We have handled every level of case in that range. The amount varies between people depending upon how expensive their future medical treatment may be and how long they are likely to be out of work or have limited income in the future as a result of the work injury. We perform calculations depending upon each of our client's circumstance to maximize an estimate of future costs to fight for a higher settlement.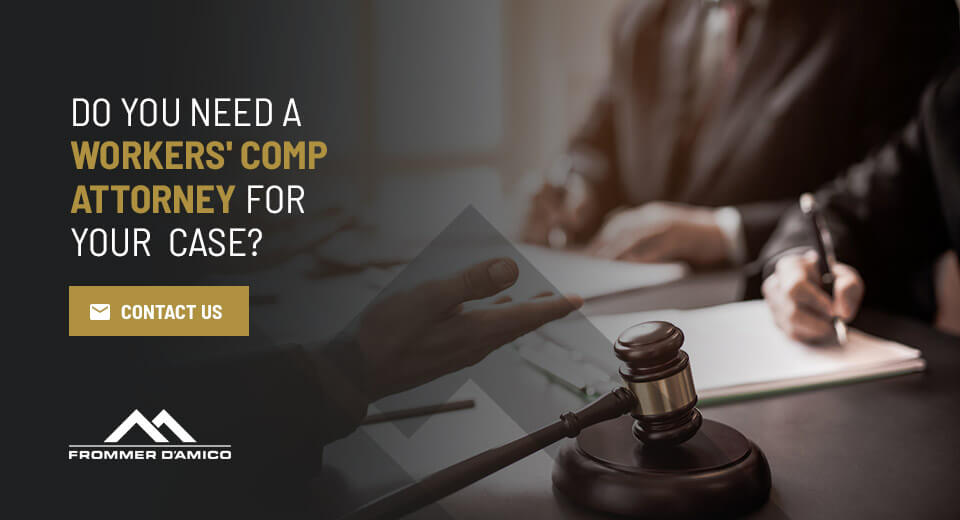 Do You Need a Workers' Comp Attorney for Your Case?
Work-related injuries are prevalent in the United States. The law provides compensation for people involved in slips, trips and falls at their workplaces. However, you must promptly submit a legally sound claim to receive sufficient compensation. Retaining an attorney's services is essential, whether you're filing a claim with the Department of Labor and Industry, settling a claim with your employer or insurance carrier or instituting legal proceedings in court. 
Frommer D'Amico provides workers' compensation services in PA. We assist injured workers throughout the process, with personalized attention to detail for each case. You can reach us 24/7 — we are ready to help you get what you deserve. We only accept fees when we win.
Contact us today and take advantage of our free, confidential consultation and case management.