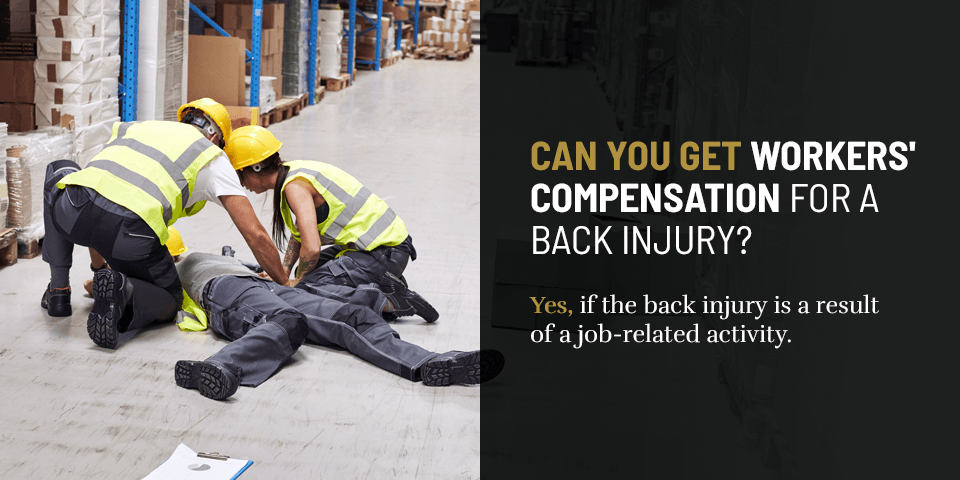 The human body is a marvelous machine. It allows us to accomplish many tasks. When we work, we often push our bodies hard to get the job done. On occasion, however, we take it too far and injuries result. That is particularly true of our backs, which are probably more prone to injury as a result of a work-related accident than any other part of our body.
Injuries resulting from repetitive motion or overexertion, including back injuries, are called musculoskeletal disorders. According to OSHA back injury statistics, back injuries can result from things like:
A poorly designed workstation
Twisting, bending or reaching while lifting
Remaining bent over for a long time
Staying in one position for too long
Repeatedly lifting heavy or awkward equipment, items or patients in health care facilities
Fatigue
Poor footing on slippery floors
Constant vibration, such as when people operate heavy equipment or drive large trucks
Workplace back injuries are not something to take lightly. If you have suffered a back injury on the job, you should report it to your supervisor or employer immediately and seek medical help. If the injury is bad enough that it forces you to miss time on the job, you should apply for workers' compensation.
Can You Get Workers' Compensation for a Back Injury?
Yes, if the back injury is a result of a job-related activity. For instance, if your job requires lifting heavy materials daily and you strained your back, you may qualify for workers' comp. If your job responsibilities involve climbing a ladder to access job materials and you fall and hurt your back, you may be eligible for workers' compensation. If your job requires you to sit at a desk for long periods and you develop persistent lower back pain, you may qualify as well. If you are a nursing assistant who regularly must lift patients in and out of a hospital bed or of a wheelchair and you injure your back, you may be eligible for workers' compensation.
Some injuries, however, do not qualify for workers' comp, including those suffered during horseplay at work. Even though you experienced the injury on the job site, hurting yourself as a result of horseplay with co-workers does not qualify, in most cases. If you hurt your back while you are off the job, even if it causes you to miss time at work, you are not eligible for workers' compensation. You need to be able to show your back injury was a result of a work-related activity to collect workers' compensation benefits.
To receive workers' compensation benefits, you need to show how your work activity caused low back pain. You will likely need the support of your physician to prove the diagnosis is from work activity or an injury, and to prove that your back injury makes it difficult or impossible to perform your job.
A worker who suffers a work-related back injury often encounter employers and their insurance companies either denying them workers' compensation coverage or attempting to reduce the amount of compensation they receive for their injury. That is particularly the case for workers who have a pre-existing back condition or a degenerative back disease. In these situations, a worker should contact an experienced workers' compensation attorney as soon as possible.
What Types of Back Injury Qualify for Workers' Compensation?

Workers experience a range of back injuries. They can be traumatic or can develop based on long-term stress. Some of the most common types include:
1. Lower Back Sprains and Strains
Workers suffer lower back injuries fairly frequently. They are common among workers who must stand or sit for long periods. It's also relatively easy for active workers to suffer a sprain because of the need to lift heavy objects. Lower back injuries are the mildest form of musculoskeletal disorders, and physical therapy or pain medication is often the best way to treat them.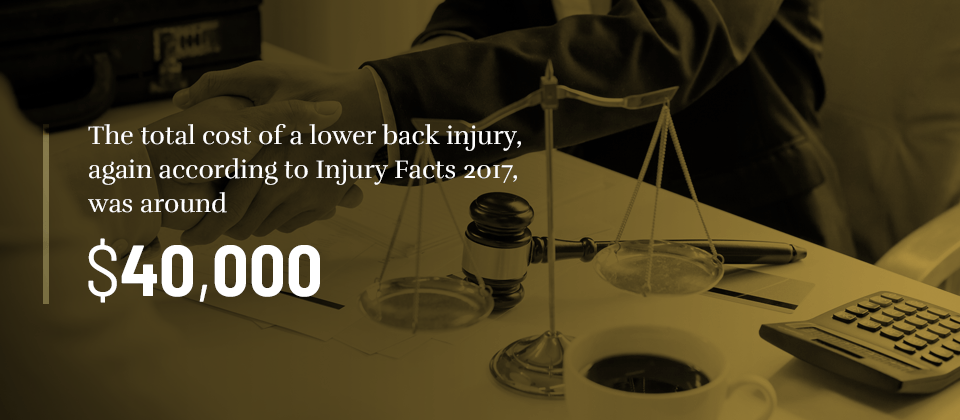 2. Slipped, Herniated or Bulging Discs
Your spinal column consists of vertebrae separated by soft discs that act to absorb shocks. If one of these discs slips out of place or gets hurt while engaged in a job-related activity, it results in prolonged, often chronic pain. Depending upon the severity of the injury, physical therapy can treat damaged discs. In extreme cases, injured discs may require surgery.
3. Pinched Nerves
When a disc between the vertebrae pushes against a nerve, it creates a pinched nerve. Pinched nerves create sharp, burning or aching pain which often radiates outward from the location of the injury. It can affect the back, neck or legs.
4. Fractured Vertebrae
If a worker falls onto their back, they can sustain a fractured vertebra. This injury often requires immediate and substantial medical attention. Workers can also suffer fractured vertebrae if they get involved in a compression/in-between accident where a piece of equipment crushes them.
5. Degenerative Disc Disease
Degenerative disease is a serious issue for older workers, because as we age, the discs between our vertebrae can tear or show signs of wear. If a worker suffers an accident that exacerbates or aggravates this condition, they may be entitled to workers' compensation.
You will need to see a physician to gauge the severity and nature of your injuries. Many times, a lack of proper precautions or on-the-job training lead to injuries. You may lift something incorrectly or try to move an object without backup. You can also sustain an injury due to overuse. Repeating the same action day after day puts a strain on your back.
Most injuries impact the lower back. Diagnosis may occur through a physical exam, X-ray, MRI, CT scan or other imaging studies. Recovery can take days, weeks or even months, depending on the severity of the injury.
Be sure to tell the doctor how your back feels when you perform your job. You may need to miss work while you recover. Whether you were in an accident on the job that caused your back injury or it built up over time due to repetitive motion, you may be eligible to receive workers' compensation benefits during your time off.
What's the Process for Filing a Workers' Compensation Back Injury Claim?
To give you the best chance of receiving workers' compensation benefits for any back-related injury, timing is key.
Infographic – Process Filing for Workers Comp for Back Injury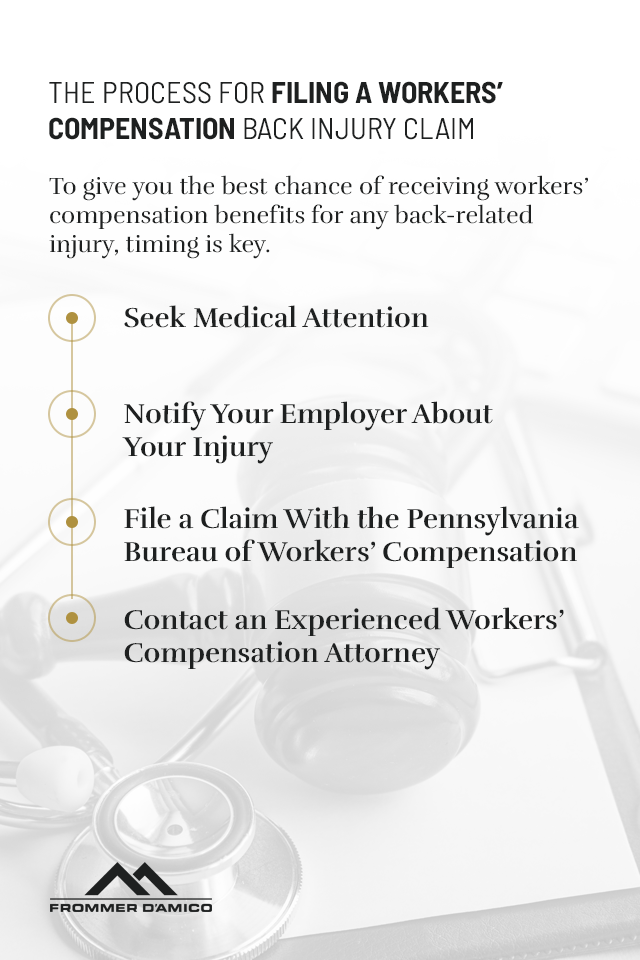 1. Seek Medical Attention
If you suffer a work-related back injury, the first thing you should do is seek immediate medical attention. If your workplace has an on-duty nurse, you should see them immediately. Otherwise, you should see your regular doctor as soon as possible. If the injury is severe enough, your employer will transport you to the nearest emergency room.
There are several good reasons for this. First is the immediate need to treat your injury. Remember, when a doctor treats you for your back injury, make sure to tell them your injury was work-related to begin the process of documentation. Medical records provide crucial evidence if you make a workers' compensation claim in Pennsylvania. Even if you're not sure about the severity of your injury, it's essential to see a doctor. Don't try to tough it out.
2. Notify Your Employer About Your Injury
If you are able, you should report your work-related back injury to your supervisor or to your employer as soon as possible. If your injury has required you to get transported to a medical facility, you should report your injury as soon as you are able.
Under Pennsylvania law, you have no more than 120 days after you have suffered a work-related injury to report it to your employer. However, you should never wait this long. An employer and their insurance company will use any loophole or excuse they can to deny you workers' compensation benefits. If you hurt your back but don't seek immediate medical attention, or if you wait for several weeks to report your injury after it happened, your employer and their insurance company will argue the injury could not have been that serious, that you did not suffer the injury at work or that you are not injured at all.
3. File a Claim With the Pennsylvania Bureau of Workers' Compensation
Your next step is to file a claim with the Bureau of Workers' Compensation. Your employer must first file a First Report of Injury with the bureau to begin the process. They have seven days after you report an injury to file the report. Your employer should also immediately notify their insurance carrier about your injury. The insurance carrier has 21 days to decide whether they will affirm or deny your benefits.
If you inform your employer of your injury within the first 21 days, you are eligible to receive benefits from the date you were injured. If you report the injury after the initial 21-day period, but before the end of the 120-day statute of limitations for reporting an injury, you may receive benefits starting on the date you reported the injury. That is another good reason you should immediately notify your employer about your injury.
Once you have suffered a work-related injury and notified your employer or have become aware of an injury because of a medical report, you have three years to file a workers' compensation claim from the date of your injury in most cases. In some very rare circumstances, the time may be extended if you did not know that your medical condition was work related. If you do not file a claim within the three-year window, you will not be eligible to receive workers' compensation.
4. Contact an Experienced Workers' Compensation Attorney
As noted above, employers and their insurance carriers will do anything they can to deny injured workers the benefits to which they are entitled. It is not uncommon for your employer or their insurance carrier to deny your workers' compensation once you report a back-related injury. Or you may feel that your employer or their insurance carrier are attempting to rush you back to work to reduce their costs.
If you find yourself in either of these situations, or if your employer or their insurance carrier approach you with a settlement offer after you have suffered a more severe back injury, you should immediately contact an experienced workers' compensation attorney. Working with an attorney not only means you receive assistance during a time when you may be trying to recover from an injury, but will also offer you protection against the more dubious practices of your employer and their insurance carrier.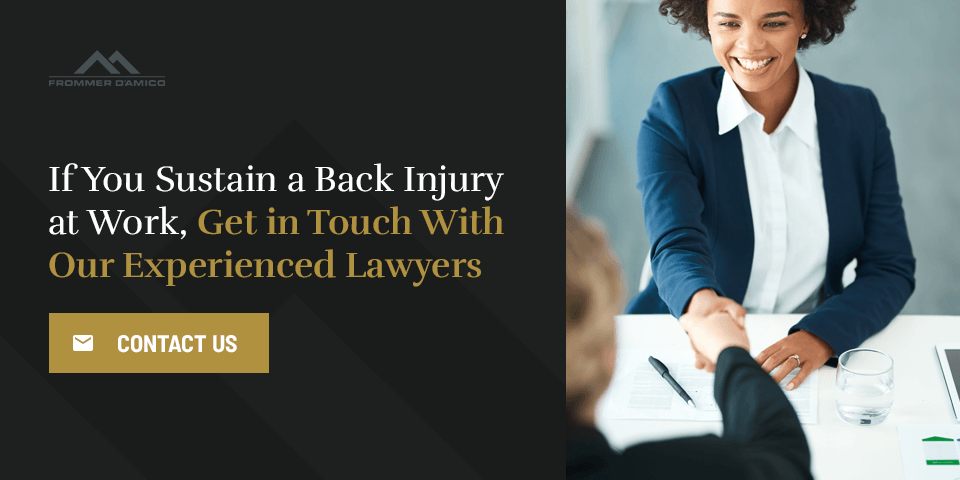 Back injuries at work can sometimes be difficult to prove. You may feel frustrated by the pain you feel and unsure of how to provide for your family when you cannot work. Frommer D'Amico focuses our practice exclusively on workers' compensation cases. Our experienced attorneys can form a strategy that will get you the best possible outcome in your case. We will even drive to you for appointments.
We want to hear about your back injury and how it happened, so we can help you move forward. Contact us online today or give us a call at 717-400-1000 to schedule a free consultation.
How Often Do People Experience Back Injuries at Work?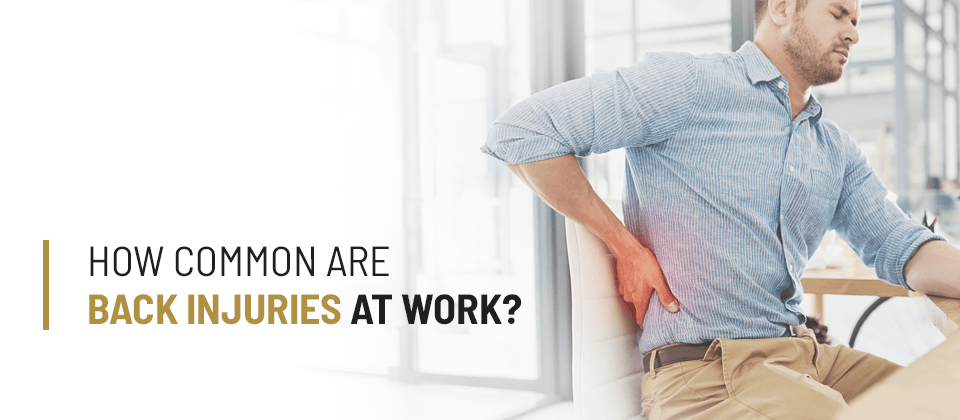 Back injuries occur across many industries, and they frequently happen in the United States. In 2016, back injuries accounted for almost 40% of all work-related musculoskeletal injuries reported to the Bureau of Labor Statistics. That adds up to more than 134,000 cases and a lot of time missed from work due to sharp, chronic or nagging pain. Consider these back injuries in the workplace statistics:
Every year, workers suffer more than a million back injuries.
Back injuries are the most common reason for an employee to miss time at work, other than having a cold.
Back injuries are responsible for one in five workplace injuries.
The primary occupations at risk for musculoskeletal disorders are tractor-trailer and heavy truck drivers, freight movers, stock material movers, nursing assistants, cleaners and janitors, registered nurses and repair and maintenance workers.
Back-related injuries as the leading cause of work-related injuries differ from occupation to occupation. For instance, more than half the cases involving musculoskeletal disorders for nursing assistants involve the back. Tractor-trailer drivers had more back injuries in total, and they were more likely to suffer injuries involving the shoulder — almost 20% — or the leg — just over 16%.
Almost 55% of workers who spend their day sitting at a desk will experience lower back pain at some point.
Back injuries account for one-quarter of all the missed workdays as a result of occupational injuries or illnesses in the United States.
My Back was Injured on the Job, and I Think it Was My Employer's Fault — Does that Affect My Claim?
If you injured your back at work workers' compensation is supposed to offer help for injured PA workers, regardless of who caused an injury or illness. Getting injured at work can be a stressful time for many workers. If you have questions about your on-the-job back injury case contact a workers compensation specialist.