If you work in Reading and have been injured on the job or in the course of regular work duties, or you've had a medical condition exacerbated or re-injured by work, you may qualify for workers' compensation. This compensation is a form of coverage paid for by your employer on your behalf. Workers in Reading and other PA communities are required by law to have this coverage in place for all employees, even part-time employees, unless their workers are exempt.
If you are injured on the job, you must report the injury to your workplace, and your employer must file a First Report of Injury (FROI) to the Bureau of Workers' Compensation. You will then receive either an acceptance or denial of your claim.
Assistance Obtaining Workers' Comp Benefits
Not all workers in Reading get an acceptance of their claim and get benefits until they can return to work. Many issues can arise after a work injury, and in these cases, you may benefit from working with a Reading workers' compensation lawyer:
Your employer denies your claim: If your employer claims your injury is not covered, you will want legal advice to ensure you're not being deprived of your rightful benefits.
Your benefits are less than they should be: Is your average wage calculated correctly? Are all your needed medical costs being covered? If not, talk to a work injury compensation lawyer in Reading, PA.
You are not covered: If your employer claims you are not eligible for workers' comp or has simply failed to cover you, contact an attorney.
Your benefits do not arrive or arrive late: An attorney can ensure you get your benefits as needed and help address late checks.
You do not agree with the employer-approved healthcare provider: In Pennsylvania, you may be required to see an employer-approved doctor if your employer posts a list of at least six providers in a public place in the work area. You are free to go to any provider you wish on this list if this is the case, and you can switch to another provider on the list if you like. If you're being pressured to return to work early, consult with an attorney.
Your benefits may be stopped or denied: In these cases, see a Reading, PA, workers' compensation attorney as soon as possible to protect your benefits.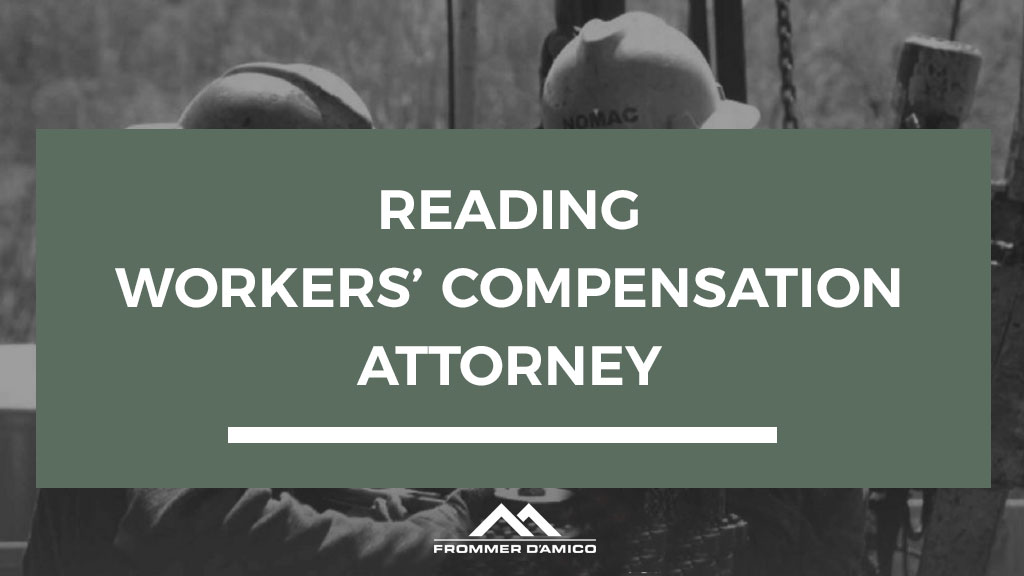 Why Work With Frommer D'Amico?
Frommer D'Amico are certified specialists who work only with injured workers in workers' compensation cases. We do not represent insurance companies, and we do not take on different types of cases. We don't have conflicts of interest, and we can place our entire focus on helping injured employees in Reading and other Pennsylvania communities.
Contact Reading Workers Comp Attorneys
Our workers' compensation lawyers in Reading, PA, are certified workers' compensation specialists dedicated to providing personalized and attentive representation for every case. In addition to free consultations, we do not charge for case management. We're also willing to travel to you if you are injured and cannot come to our offices.
Our attorneys are trusted and certified workers' compensation experts. Speak to a Reading workers' compensation attorney today by contacting Frommer D'Amico online or calling us at 717-400-1000 for a free consultation.