Does workers' comp protect my job position and benefits?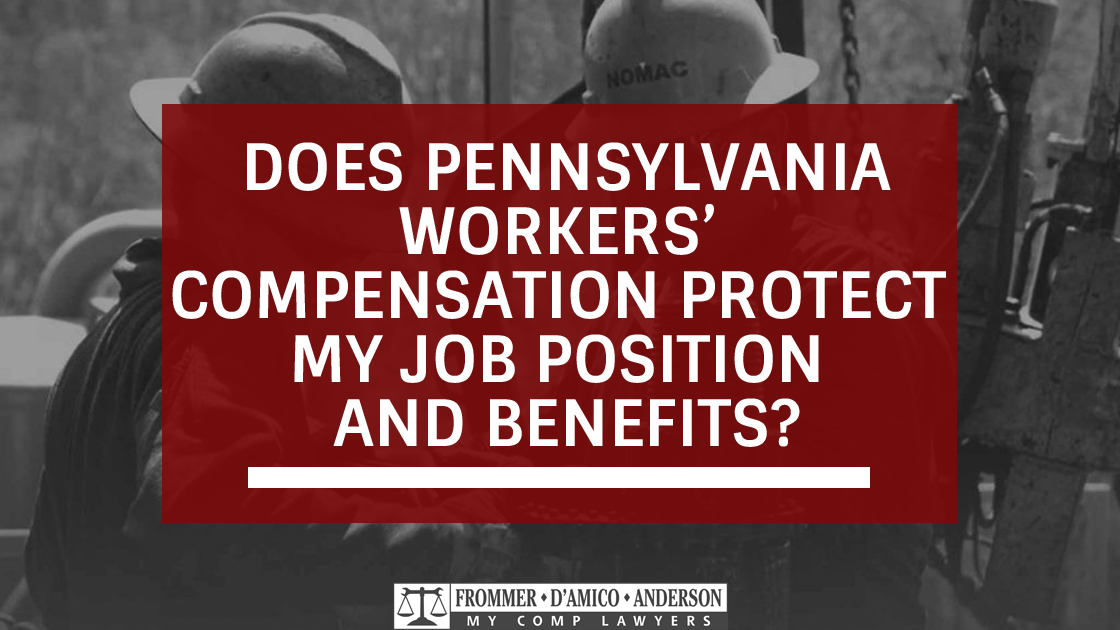 No, the Pennsylvania Worker's Comp Act does not include any protection of your job title, employment benefits or even a job with your employer. Rather, you are entitled to wage loss checks when you are out of work for the injury or when you are in a lower paying job because of the work injury.  The Workers' Comp Act requires your employer to pay for medical bills that are related to the work injury, but does not require your employer to continue paying for your health insurance or other benefits when you are off of work for a work injury.
If  you do not have one, you should ask your employer for a copy of an Employee Handbook or their policy regarding whether your specific employer voluntarily agrees to continue benefits for injured workers, and how they handle keeping any job positions open for a while.  Again, employers are not required to do this, but many employers do voluntarily agree to maintain benefits or a job position for some period of time.
If you want your pre-injury job position to be held open, you should talk to your employer or their Human Resources officer about FMLA (Family Medical Leave Act).  The Family and Medical Leave Act of 1993 (FMLA) is a United States federal law requiring covered employers to provide employees with job-protected and unpaid leave for qualified medical and family reasons. FMLA provides certain employees with up to 12 weeks of unpaid, job-protected leave per year. It also requires that their group health benefits be maintained during the leave.  If and when your employer wants to cut off your medical benefits, they should give you advance notice and offer you the opportunity to continue health insurance at your expense.
You may have rights in this regard under the COBRA law (Consolidated Omnibus Budget Reconciliation Act). COBRA is a federal law that may let you keep your employer group health plan coverage for a limited time after your employment ends or after you would otherwise lose coverage. This is called "continuation coverage." In general, COBRA only applies to employers with 20 or more employees.