Recently, the federal government issued a report analyzing state workers' compensation systems all over the country to determine whether these systems meet the needs of injured workers.  The report warns:  Working people are at great risk of falling into poverty.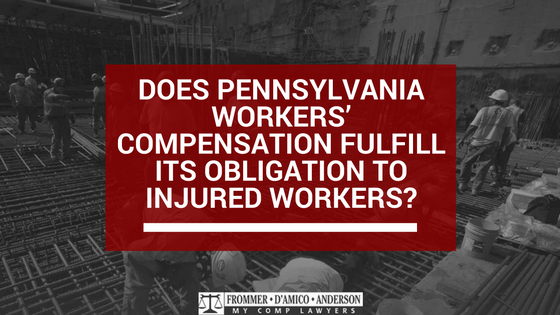 Pennslyvania, Insurance Companies, and Workers Compensation
Insurance companies are experts at manipulating the system against injured workers.  Over the years, Pennsylvania law has evolved to help them do this more effectively.  This often means that injured workers can be left out in the cold by insurance carriers using a system to maximize profit and limit costs.
In Pennsylvania, there are tools available to insurance companies and employers that discourage injured workers from even filing their claim.  Even when a claim can be established, insurance companies are reluctant to pay for the most basic and obvious benefits.  More often than not, claims are forced into litigation to be resolved by workers' compensation judges.
Resources for Injured PA Workers
Throughout our site, we provide multiple resources highlighting particular areas of Pennsylvania law where insurance companies and employers tend to take advantage of injured workers.  We hope to prepare injured workers for the challenges ahead.  When it is all said and done, the best remedy is effective legal counsel.  It can level the playing field for the injured worker. When you are filing your claim, dealing with insurance companies and many other aspects of your case you should be working with a workers compensation expert. 
Our attorneys are certified workers compensation specialists and we ONLY represent workers, never employers. Our low fees, free case management, and free legal consultations have helped our clients get the compensation they deserve while saving thousands. Contact us today and we will take the time to listen to your case, your concerns, and will provide you, expert legal counsel.