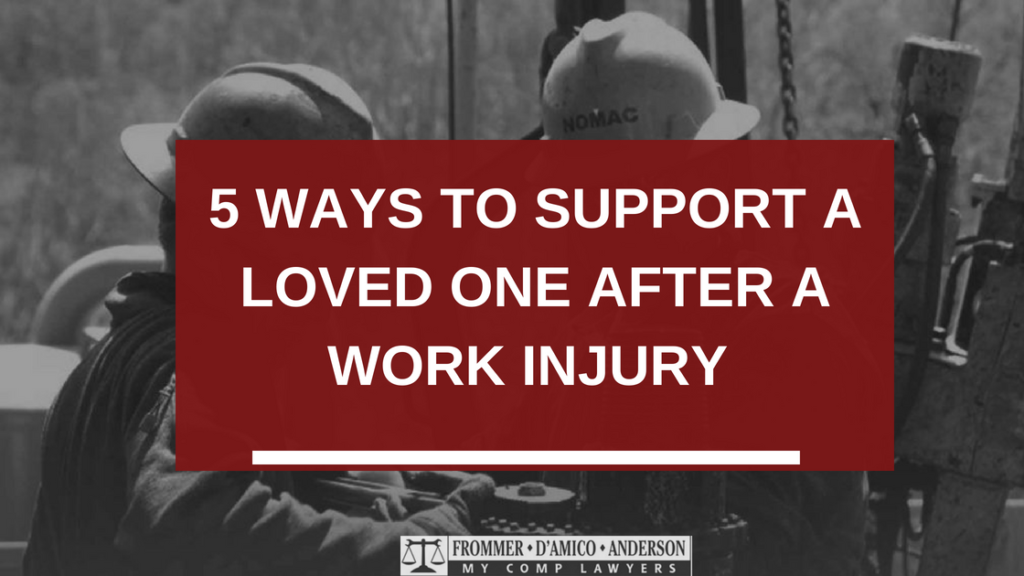 Seeing someone you love suffering from an injury they have sustained on the job is very painful and can make you feel helpless. Luckily, there are several you can do. Frommer D'Amico has compiled this list of five ways to support a loved one after a work injury to assist you.
Listen

One of the best ways to support a loved one after an injury is to talk to them and to listen. Some people who are injured find that friends and family stay away from them, often because they don't know what to say. This can add to the distress of an injury. Even if you're not sure what to say, make an effort. Listen to the person's frustrations, fears and concerns. Often, a serious injury comes with stress, and being able to talk about it can lighten your loved ones burden considerably.

Find Resources

Look for support groups, doctors and workers' compensation attorneys to help your loved one. Not only does it show you care, but finding the right professionals can have a big impact on your loved one's recovery.

Spend Time Together

If your loved one's mobility is hampered, you may want to spend time together reading, watching movies, playing board games or just hanging out. If they're in a hospital, visiting and bringing some games or magazines to flip through can be very helpful and touching. Just being together can have a significant impact on their self-esteem and ability to heal.

Look Out for Worrisome Symptoms

Unfortunately, some injured workers have a hard time coping with changes to their body or their abilities. If you notice a loved one is struggling, you may want to encourage them to seek professional help. This is especially the case if their eating, sleeping and regular habits are being affected. If a loved one is talking about taking their own life, it is an emergency. Take the situation seriously and get them immediate help.

Take Care of Yourself

You can't help your loved one if you are worn down. If you're acting as the primary caretaker, especially, seek respite services and group support so you are supported emotionally during this time. Even if you're not a primary caretaker, make sure you speak to a therapist or support group if you're struggling with the emotions and reality of a friend's serious injury. Even though you're not the one who is hurt, you may still experience distress and trauma.
If your friend needs a workers' compensation attorney to ensure they get the rightful benefits, have them contact Frommer D'Amico. Our attorneys are certified workers' compensation specialists and take on each case directly. We also don't charge case management fees, which can save our clients thousands of dollars. We only work with injured workers and do not take on other types of cases. We also never represent insurance companies, allowing us to specialize in worker's comp issues. Contact us today for free consultation.