What You Can Do If You're Hurt by a Nip Point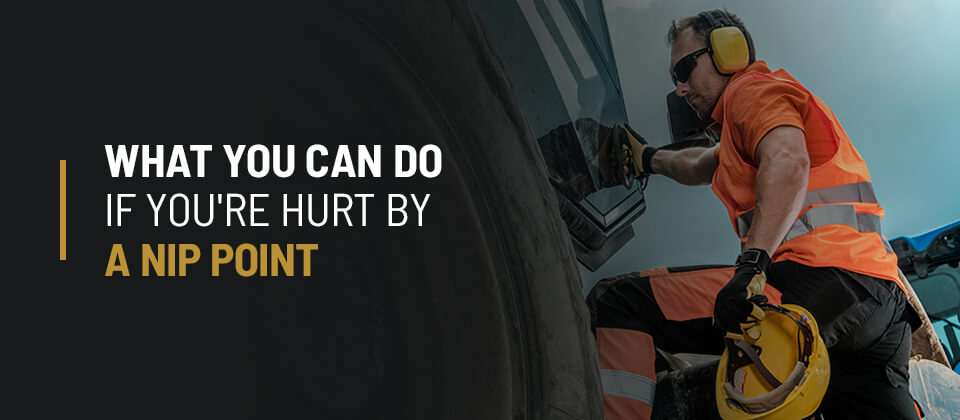 Nip points can present a hazard to workers who hold factory jobs. The dangers of machines on the job can result in work-related injuries, and if this happens to you, you may want to hire a workers' compensation attorney who can help you receive the benefits you deserve. 
Each state has its own laws and guidelines about how injured workers should file workers' comp claims. At Frommer D'Amico, we have developed this guide to help you understand nip points and what to do if you are injured by a machine nip point in Pennsylvania.
What Are Nip Points?
A nip point is the point at which a part of your body may get caught between stationary and moving parts of a machine or between two moving parts of the machine. In most machine nip points, there is at least one moving part that has a rotary or circular motion. 
Typically, nip points include rollers, pulleys, gears and belt drives. Machines that have nip points include:
Covers
Hatches
Conveyors
Press brakes
Power presses
Powered doors
Powered rollers
Printing presses
Powered benders
Robotic machines
Assembling machines
Metal-forming machines
Plastic molding machinery
Power transmission equipment
The Occupational Safety and Health Administration (OSHA) has standards for construction, general industry, agriculture and marine terminals contain protections for employees working with machines that include nip point hazards. 

The Importance of Machine Guarding
Machine guarding is essential in preventing severe workplace injuries like crushed hands or fingers, burns, amputations or blindness. These injuries are preventable, and safeguards can ensure they are avoided. According to OSHA guidelines, any machine part that can cause injury needs to be safeguarded. 
Machine guarding can protect the operator and other employees nearby from hazards a machine creates during normal operation, including hazards like rotating parts, in-running nip points and flying chips and sparks. When it comes to conveyors, hazards can vary. This means each conveyor must be evaluated to determine the safeguarding methods that should be used.
If a conveyor includes nip points and other moving parts, mechanical guards may be required to protect workers. These guards may include enclosures, barriers, fences and grating to prevent physical contact with the machine's chains, gears, belts, sprockets and point of operation areas while they are in motion.
Conveyor Hazard Points
A conveyor is used to transport materials vertically, horizontally, around curves or at an angle. A conveyor's hazard points depend on the material conveyed, the type of conveyor, where the conveyor is located and how close it is to workers. Though a conveyor reduces or eliminates manual material handling tasks, it also introduces amputation hazards as a result of the mechanical motion. 
A conveyor-related injury tends to occur when a part of your body gets caught in the nip points due to the following situations:
Your clothing or a cleaning cloth becomes caught in the conveyor and pulls a hand or fingers into the conveyor.
You are trying to free jammed material or remove debris by reaching into the in-running nip point.
You are maintaining or cleaning the conveyor, particularly when it is operating.
Conveyor hazards also include power transmission couplings, improperly guarded gears, belts and pulleys, vertical and horizontal shafting and sprocket and chain drives. Overhead conveyors need special attention, as the majority of the machine's drivetrain is exposed. Workers can be injured or killed as a result of working underneath a conveyor and in locations around tension adjusters and lubrication fittings. 
Hazards of Screw Conveyors
A screw conveyor is a trough that has a revolving shaft with a twisted plate or spiral. Between the trough and the revolving shaft are in-running nip points for the length of the screw conveyor. A screw conveyor can be especially dangerous, as it may be located near or at floor level and may not be covered. 
Hazards of Belt Conveyors
For belt conveyors, hazards can be present where the chain or belt exits or enters the in-running nip point, where the multiple conveyors are adjoined and where the belt wraps around a pulley. Conveying mediums, belt-conveyor drive mechanisms, discharge ends and snub rollers in an area the belt changes direction can also present hazards to a worker. 
Hazards of Roller Conveyors
A roller conveyor is used for moving material on gravity-fed or powered parallel rollers. A powered roller conveyor may snag on and pull clothing, hair and hands into the spot between the conveyor's stationary components and the rollers. An in-running nip point may exist between the belt and carrier rollers, between the sprockets and drive chain and at take-ups, terminals, snub rollers, drives and idlers.
Hazards of Chain Conveyors
When a sprocket and a chain make contact, a nip point occurs. A nip point also occurs at terminals, drives, idlers and take-ups. Automatic take-ups may also have the hazard of shear points. Long hair, jewelry and clothing can get entangled in the machine and caught in a moving chain conveyor, potentially causing injury to the operator.
To avoid injuries due to these hazards, conveyor safety standards should be followed in the workplace.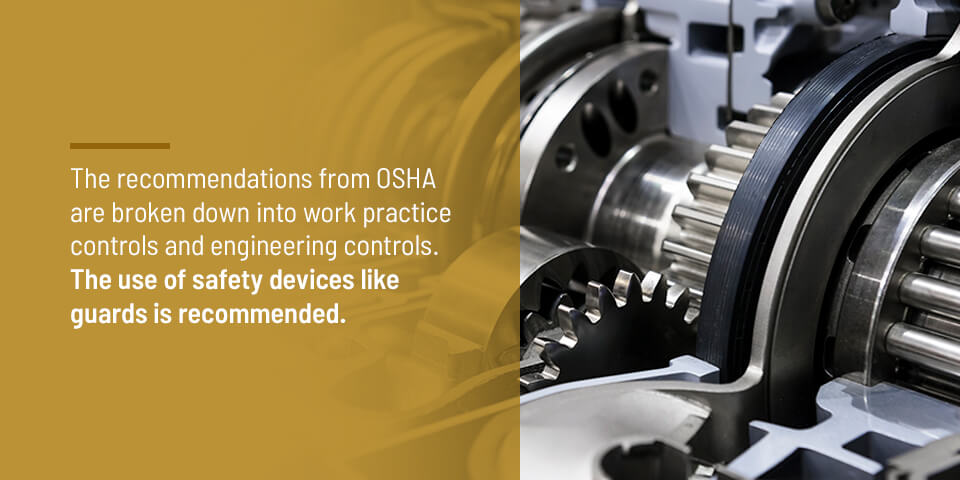 Nip Point Regulations
OSHA has developed standards for companies in various industries to help avoid injuries caused by nip points. The recommendations from OSHA are broken down into work practice controls and engineering controls. The use of safety devices like guards is recommended. Guards are intended to isolate a worker from nip points. Other safety devices may have several purposes, including: 
Requiring the operator to use both of their hands on the machine's controls. 
Withdrawing the operator's hand from the danger area.
Shutting down the machine once a body part like a hand breaches the area. 
Employers should follow OSHA's nip point regulations to ensure the safety of their employees. 
How Employers Can Prevent Nip Point Injuries
A nip point injury can be devastating to an employee, potentially causing amputation or even death. Fortunately, there are steps employers can take to prevent these injuries from occurring. 
1. Implement and Pay Attention to Machine Guards
An employer should inspect equipment thoroughly prior to purchasing it. To eliminate possible hazards before equipment is sold, manufacturers should make the adjustments necessary. After a new piece of equipment is installed, monitor workers' use of the equipment to ensure it is being used correctly and the necessary machine guards are properly in place and have not been removed.
If an employer buys a machine without guards, they should be installed by contacting the manufacturer to determine whether the appropriate guards are available. Every guard should be designed and installed by those who are technically qualified and competent. 
2. Avoid Shortcuts
A nip point injury tends to occur when a worker takes shortcuts to complete a task quickly, is not properly trained or does not understand the dangers of the machine they are using. An employer should train every worker on all the job tasks they are expected to perform and instruct employees to never bypass these procedures. Employers should explain to workers the dangers of taking shortcuts so they understand why it is so crucial to avoid them. 
3. Incorporate Work Practice Controls
Work practice controls include proper training, inspections and housekeeping. Employees should understand:
Each of the controls' purposes and functions.
How to stop equipment in the event of an emergency. 
When a machine guard should be removed.
What to do if a guard is malfunctioning or damaged. 
What the safety procedures are for special setups. 
Workers should also be required to demonstrate their ability to operate the machine with every safety mechanism and precaution in place.
An inspection should ensure machine operators are properly trained, machines are equipped with all the necessary safety accessories to combat the job's hazards and safety equipment, and machines are in working condition. Aisles and floors should be kept in good repair and free of dust, debris, unevenness, protruding nails and other tripping hazards. A floor should also be nonslip. 
4. Follow Every Procedure for Lockout/Tagout
Many nip point injuries occur while the machine is temporarily stopped. As a result, it is essential for employees to follow the proper lockout/tagout (LOTO) procedures. If the equipment isn't de-energized, an employee is not safe when the machine is stopped and the machine guard is removed. 
5. Use Personal Protective Equipment and Protective Clothing
If engineering controls for the machine are not available or if an additional measure of protection is needed, a machine operator should use personal protective equipment or wear protective clothing. Protective equipment and clothing should be:
Kept in good condition.
Appropriate for the hazards of the job.
Kept sanitary, clean and fully functional.
Properly stored to prevent loss or damage when not being used.
Workers may need to wear hard hats, hairnets, safety goggles, face shields, hearing protection, coveralls, vests, jackets, aprons, gloves and safety shoes.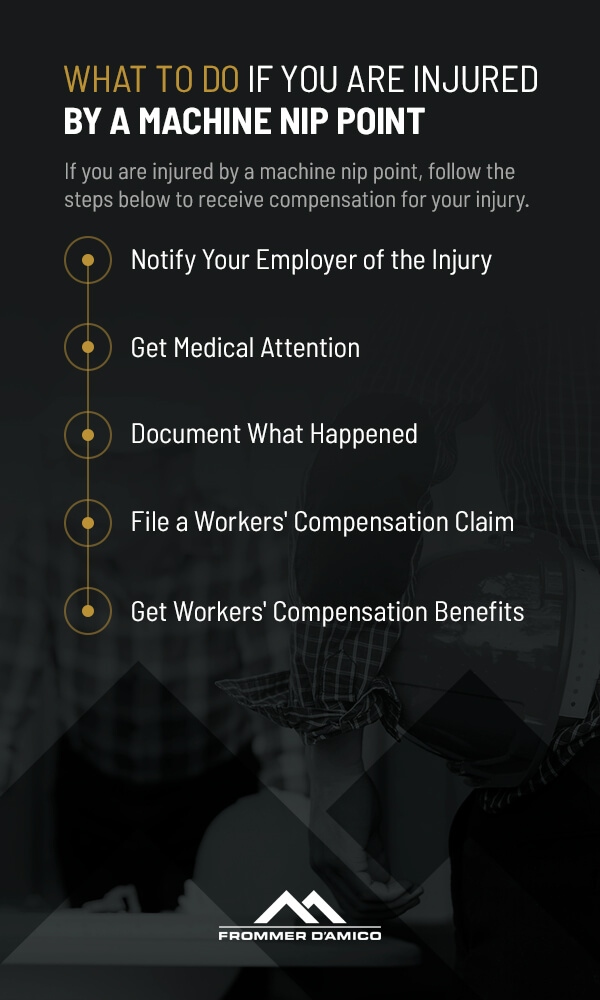 What to Do If You Are Injured by a Machine Nip Point
Workers' compensation is intended to protect workers who have been injured on the job. In Pennsylvania, workers' compensation can provide benefits for your medical bills and some of your lost wages. Employers purchase this insurance and eligible employees can get these benefits no matter who is at fault for the injury. If you are injured by a machine nip point, follow the steps below to receive compensation for your injury.
1. Notify Your Employer of the Injury
The first step to take after you sustain a nip point injury is to notify your employer about the injury. You must report your injury to your employer within 120 days, though you should report the injury as soon as possible. When you report the injury within 21 days after sustaining the injury, you may be able to receive your benefits from the day you were injured.
2. Get Medical Attention
The next step following a nip point injury is to seek medical attention. Even if you initially believe your injury is minor, it may be more serious than you realize. If you have a modest level of achiness or bruising, this can be an indicator of a slight bone fracture. Without medical attention, this fracture can lead to issues for you in the future.
Having a medical record of your injury is crucial for providing evidence for your workers' comp case. When you receive medical attention, you can ensure you are getting a professional diagnosis of your injury and the treatment you need. Seeking medical attention promptly can also ensure you avoid pain and medical complications later. 
3. Document What Happened
Next, ensure you document your injury and file a report with your supervisor or manager. Document medical costs and other expenses you incur because of your injury. If you have a careful record of how you have been impacted by your injury, this can provide further evidence to prove your case.
4. File a Workers' Compensation Claim
To initiate the process, your employer should submit to the state a First Report of Injury. In Pennsylvania, you have a maximum of three years from the date of your injury or the date you discover the injury to file your claim petition. You may not become aware of a repetitive stress injury like carpal tunnel syndrome for months or years. 
If you believe your employer has failed to act or is not following the workers' compensation claims process, you may want to hire an experienced attorney who can help you navigate the process of filing a claim.
5. Get Workers' Compensation Benefits
After your employer reports your injury to the insurance company, the insurer will decide whether to approve or deny your workers' compensation claim. If your claim is accepted, you will be issued a Notice of Compensation Payable and will be provided workers' compensation benefits. 
If your claim is denied, you can appeal the decision. In this case, you may want to seek legal counsel.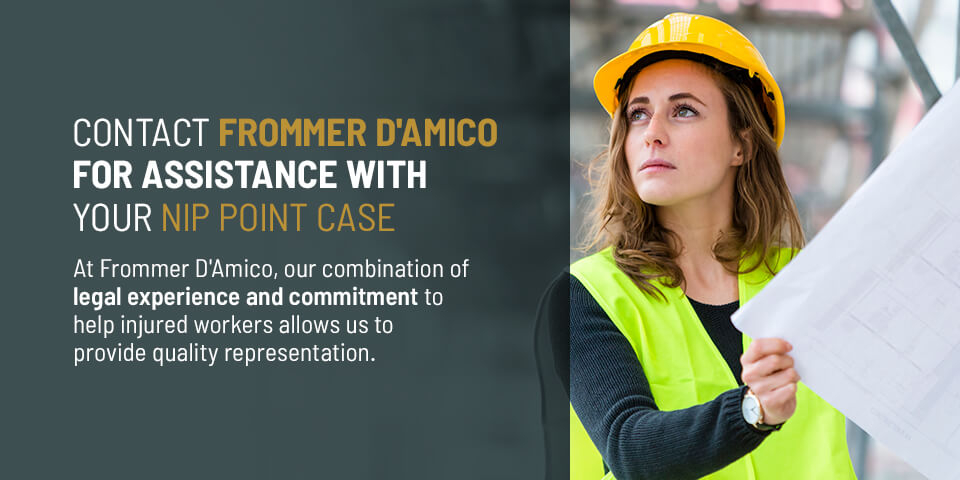 Contact Frommer D'Amico for Assistance With Your Nip Point Case
If you have suffered machine-related injuries, you deserve to be compensated. At Frommer D'Amico, our combination of legal experience and commitment to help injured workers allows us to provide quality representation. We only represent workers, never employers, so you can trust we will represent your best interests in a workers' comp case. 
We are based in Harrisburg and offer our legal services to residents throughout Central and Eastern Pennsylvania. To learn more about what to do if you are hurt by nip points on conveyors or to discuss your case, contact us today. Our consultations are completely confidential and free.