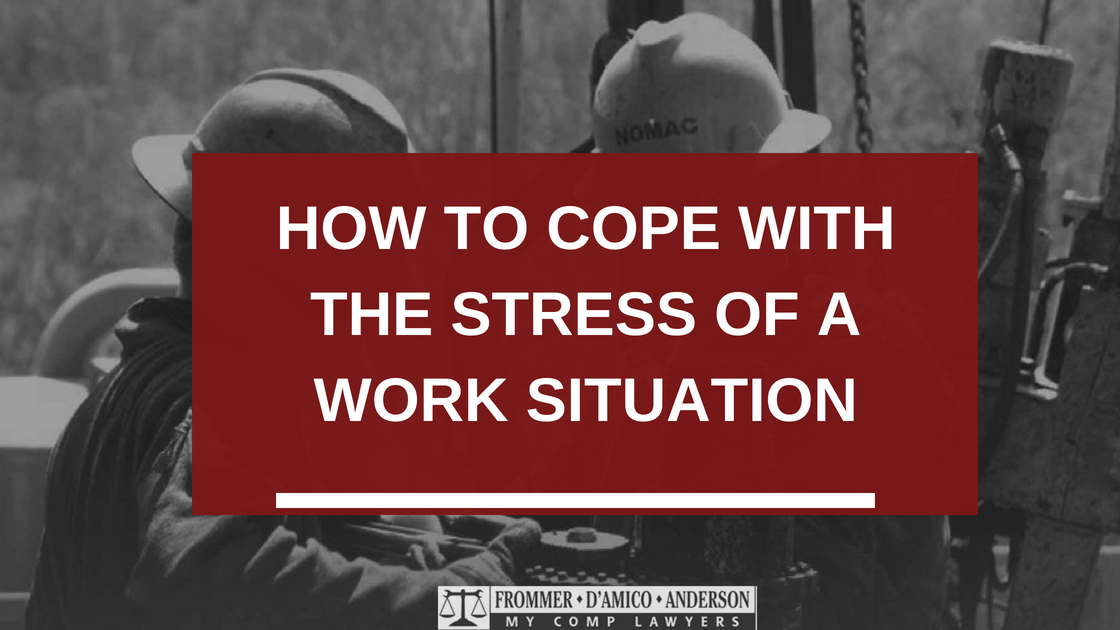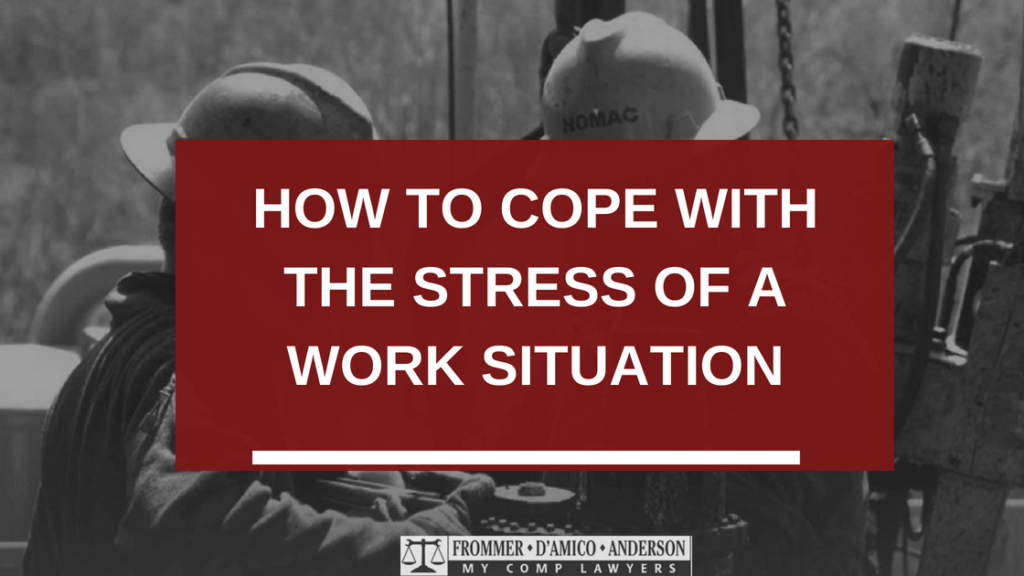 A work injury is one of the most stressful things that can occur on the job. In fact, some workers suffer post-traumatic stress disorder or other conditions due to the trauma of a work injury. If you have suffered and an on-the-job injury and are experiencing stress, Frommer D'Amico has compiled this list of tips on how to cope:
Find a Support Group: Talking to others who have been through the same injury as you can be invaluable and can help you feel less alone. Speaking to someone who has been in the same position as you and has recovered or healed is highly inspiring, as well. Also, support group members and leaders may know about resources in the community that can help you on your journey to healing.
Talk to a Workers' Compensation Attorney: One of the biggest sources of stress for many workers is financial pressure. If you're worried about paying the bills or being fired from your job because you've been injured at work, you're probably feeling a lot of extra stress. A workers' compensation attorney can ensure you secure your rightful benefits.
Talk to Family and Friends: Your usual support network can provide you with compassion and a listening ear when you need it. Just knowing people care about you can make a difference.
Make Your Doctor Your Ally: Your physician can help create an action plan for your injury, which may make you feel more in control of the situation. Always follow your doctor's instructions and attend regular appointments, so you have the best chance of healing fully.
Learn About Your Injury: Ask questions about your injury when speaking to your physician and look up information on reliable websites such as WebMD or the CDC website. Avoid unreliable sites that may contain inaccurate information. Learning about your situation may help you become a partner in your healing process and can let you feel more in control of the situation, which can help assuage some of the stress.
Take Care of Your Health Overall: You will feel better and have a better chance of full recovery if you are exercising within the boundaries your doctor has set and eating healthy, whole foods. Getting plenty of sleep also helps give your body a chance to heal.
Turn to Creative Expression: Journaling, painting, music and other forms of art can help you express your stress, distract you from your pain and soothe some of the sadness you may be feeling after an on-the-job injury. Before turning to creative expression, talk to your doctor to ensure you undertake a creative activity which will not aggravate your injury.
Work Injury and Mental Health Statistics
When you miss work due to injury, you may feel frustrated and powerless to change your circumstances. The constant worry about money and whether you'll be able to provide for your family can create anxiety and lead to depression. Statistics show a firm link between work injury and mental health issues.
Injured workers have a greater chance of developing mental health issues than the general population. One study found that injured workers had more than three times the rate of diagnosed depression vs. the general population, at 38% vs. 12%. Three-quarters had trouble sleeping compared to half of the general population, and 42% reported trouble concentrating vs. 10% of the general population.
Another study found that more than half of injured workers experience depression symptoms, which arose most often during the first month following their injury. The likelihood of depression developing remains elevated for three months after an injury occurs.
Signs of Depression After a Work Injury
Do you suspect that you're experiencing depression after an injury at work? While self-diagnosis isn't always effective, if you recognize certain symptoms of depression, you can approach a mental health professional for treatment or even just to talk. Here are some of the signs of depression following a work injury:
Feelings of guilt or helplessness: You may feel like the injury was preventable or that it was your fault. You may have trouble getting past a feeling that you didn't do anything to stop the injury from happening.
Fatigue and lack of energy: You might feel listless and want to sleep all the time.
Headaches and/or stomach pains: These issues do not go away with treatment.
Difficulty concentrating: You may have trouble making decisions or remembering details that other people tell you.
Lost interest in hobbies or other favorite pastimes: You may feel indifferent toward things that once gave you pleasure.
Trouble sleeping: Many people with depression develop insomnia and have a hard time staying asleep once they fall asleep.
Many people who experience depression after a work injury feel sad or hopeless, and they exhibit increased irritability. You may notice that your appetite fluctuates, and you may gain or lose weight. Feeling hopeless or pessimistic is another common symptom of depression. These feelings may flare up when any new developments with your case arise.
Should I Tell My Lawyer How I Feel? 
You don't have to figure out how to cope with the stress of a work injury alone. If your work injury is causing depression, tell your lawyer how you feel, and together you can decide the next step. Depression is a serious condition, and the consequences can impact your ability to participate effectively in your case. You also need to keep a record of any treatment for mental health conditions as they pertain to your case.
Your attorney can help you find the assistance you need to address your stress. Rest assured that what you're experiencing is natural and treatable. You can get better with the right help, and your lawyer can help you find that help.
Contact Us for Free Consultation
If you need to speak to a workers' compensation attorney about your claim, contact Frommer D'Amico. All our attorneys are certified workers' compensation specialists, and our entire focus is on representing injured workers — never insurance companies — in workers' compensation claims. We are even willing to travel out to see you if you can't come to our law offices. Contact us today for a free consultation.