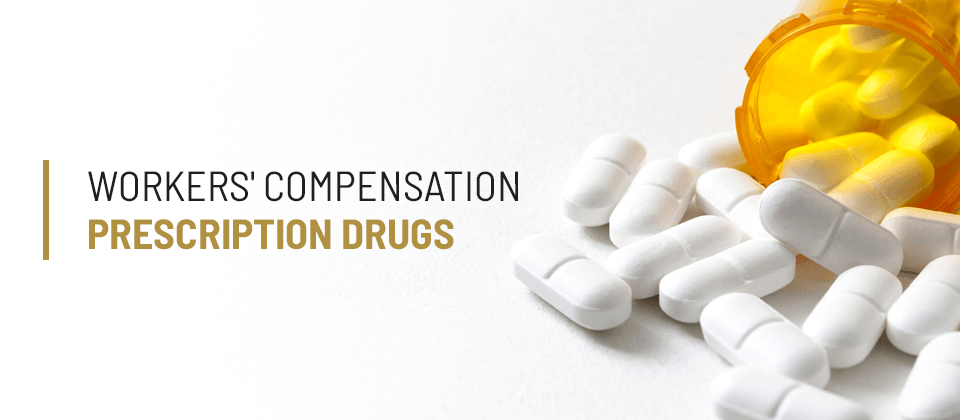 If you've been injured in a work-related accident or diagnosed with an illness or disease as a result of exposure to a dangerous or toxic substance, you are likely eligible for workers' compensation in Pennsylvania.
When you're awarded workers' compensation, it means you'll receive wage-loss benefits to compensate for part of your lost income — normally two-thirds of your average weekly wages — and all of your medical expenses related to your injury. This compensation includes any medications that doctors prescribe to help you heal from your injury or deal with pain while you're healing.
Steps for Getting Your Prescription Filled on Workers' Compensation
Any prescription you receive can be filled at a pharmacy, either locally or via a mail-in pharmacy. If these prescriptions have been prescribed as a result of a work-related injury, you'll need to follow specific guidelines to fill them.
1. Select a Pharmacy
Under workers' compensation law, you have a right to get a prescription from your doctor that you need for a work-related illness or injury. You also have the right to select your own pharmacist or pharmacy. You can change your pharmacy or pharmacist at any time if you're dissatisfied with their services and go to another pharmacy to fill your medications.
2. Make Sure the Pharmacy Fills Workers' Compensation Prescriptions
Pennsylvania law gives you the right to use another pharmacy or pharmacist. The law does not allow the insurance company to interfere with your right to choose a pharmacy. You should note that a pharmacy is not required to participate in the program. If you decide to use your own pharmacist or pharmacy, you should check with them about how they deal with workers' compensation prescriptions.
3. Find out If the Insurance Carrier Contradicts Your Claim
The law governing workers' compensation in Pennsylvania says that an employer's insurance company does not have to pay your prescriptions if they're challenging your claim.
If a workers' compensation judge agrees that your injury is work-related, the insurance company or self-insured employer must pay for prescriptions and medical treatment. If there is a controversy surrounding your claim for a work-related injury, and the assigned pharmacy will not fill your prescription as a result, you may choose your alternative pharmacy.
4. Remember That You Can Keep Taking Your Current Prescription
Your employer's insurance company cannot prevent you from using the medications that you're currently taking. In Pennsylvania, an insurance company cannot decide what medications your doctor prescribes for you. Recently, there was a move in Pennsylvania to allow insurance companies to create a formulary of medications that would tell injured workers what prescriptions they could take, but it was vetoed by the governor.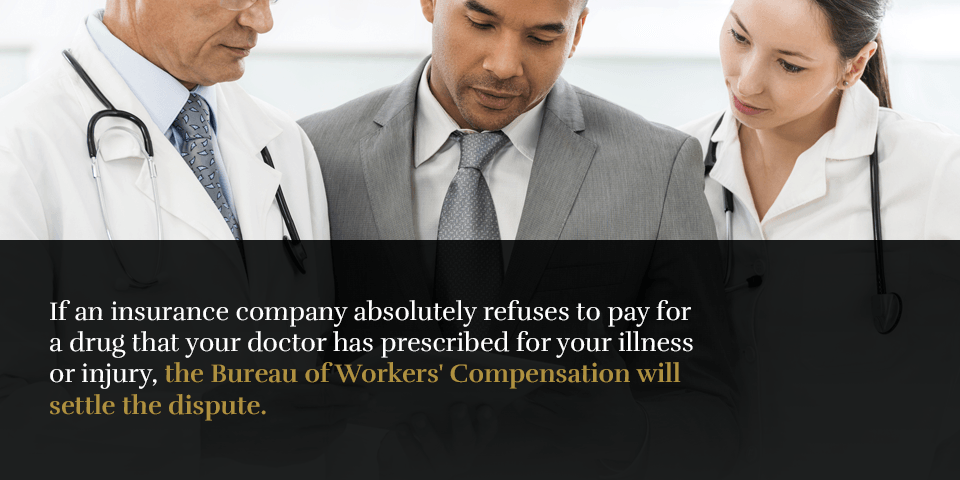 If an insurance company absolutely refuses to pay for a drug that your doctor has prescribed for your illness or injury, the Bureau of Workers' Compensation will settle the dispute.
5. Wait for Reimbursement of Prescription Costs
There is no set time frame for the reimbursement of any funds spent on medications for a work-related injury. In most cases, an employer's insurance company is required to pay any undisputed portion of a claim within 45 days, including prescription costs. Even if your employer and their insurance company are disputing your claim, any parts of the claim that are undisputed must be paid within 45 days. They also need to tell you why any parts of your claim are being disputed.
What You Should Know Before Filling Your Prescription
Before you take your prescription to be filled at your pharmacy for your work-related injury, here are some tips that can help you with the process.
1. Know What Medications You're Taking

It's a good idea to always keep a list of your current prescriptions and medications and know when they need to be filled. In addition, keep track of which of these medications are for your workers' compensation injury and which are ones you were taking before you were hurt.
2. Gather More Information About Your Medications
If you're not sure about your medications, a little research will help. Talk to your doctor about what each medication is and what it was prescribed for. There are some good databases about medications on the internet. You should also know that a doctor will sometimes prescribe a drug for purposes other than its primary use. Insurance companies are often suspicious of any drug prescribed in this way.
3. Make Sure You Know Who Is Prescribing You the Medication
Often when you go to a doctor's office, you don't actually see the doctor. You'll be treated by a nurse practitioner or physician's assistant. If this is the case, you should ask the name of the supervising physician who will sign off on all your prescriptions and medical records.
4. Avoid Waiting to Fill the Prescription
Once your doctor has prescribed a medication for your work-related injury, fill it as soon as possible. Some pharmacies will not fill prescriptions until they have been pre-approved by the insurance company. To reduce the time between when you receive the prescription and when you actually take the drug, visit the pharmacy right away.
5. Choose the Optimal Time
Fill your prescription on a weekday morning — but not on a Friday or the day before a holiday. The more time you give yourself to get your prescription filled, the better, but choosing the right time is helpful too.
Insurance company adjusters are often dealing with many cases. They tend to start early in the day and leave around 4. If the pharmacy needs to call an insurance carrier to validate your prescription, it's going to take at least 24 hours, maybe even 48. If you pass in your prescription late on a Friday, chances are, you won't get it before Monday or maybe even Tuesday.
6. Phone Ahead
Almost all pharmacies allow you to fill prescriptions over the phone, especially if they're refills. If your doctor has sent your prescription to a pharmacy, you just need to call them to fill it. This process works to your advantage since, unlike with doctors visits, you won't be reimbursed for your travel expenses to a pharmacy to pick up a prescription.
7. Work With an Attorney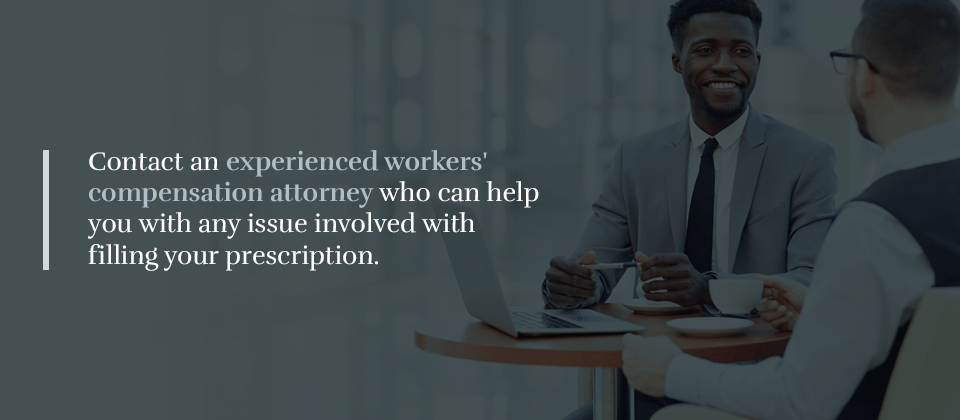 As we noted above, insurance companies will sometimes contest prescriptions ordered by a doctor. If this situation is the case for you, contact an experienced workers' compensation attorney who can help you with any issue involved with filling your prescription. Workers' compensation attorneys and their staff know how to handle prescription drug issues, and they'll work with the insurance company to resolve any problem you have as soon as possible.
8. Know What Information to Give Your Attorney
When you work with a workers' compensation attorney, you should be able to give them the following information about your prescription:
The exact date of your injury
The part of your body the medication will be used for
The name of the drugs being prescribed
Whether they're new prescriptions or refills
The name of the doctor who has prescribed you the medication and where they work
The name and location of the pharmacy where you're trying to have the prescription filled
The pharmacy's phone number
Prescribing Guidelines in Pennsylvania
The issue of which drugs should be prescribed for the treatment of a work-related injury is a controversial one. Prescribing guidelines often differ from state to state. One issue that the insurance industry has complained about the most is the cost of prescription drugs. Currently, if a worker's claim has been accepted and a doctor prescribes a medication for a work-related injury that is "reasonable, necessary and related," it's assumed that the medication will be paid for by the employer's workers' comp insurance company.
As a result, the insurance companies were pushing for a bill that would have created a drug formulary for the Pennsylvania workers' compensation system. A formulary would be a list of drugs that could be used to treat workers' compensation injuries, banning the use of others.
The bill was also designed to deal with the opioid crisis currently affecting workers in the workers' compensation system. Research has shown that Pennsylvania is among the states with the highest percentage of injured workers who become long-term opioid users. The studies also showed that when a worker was given long-term opioid prescriptions for injuries to the lower back, they were off work 900 percent longer than workers who were not treated with opioids.
Workers and attorneys who handle workers' comp were concerned that the bill would've resulted in any expensive medicine being denied coverage. In the end, Gov. Thomas Wolf vetoed the bill in April 2018, saying that he did not think it was the best for injured workers in Pennsylvania. He also noted that the bill would have no impact on the opioid crisis that was affecting many workers who were on workers' compensation.
In July 2018, Gov. Wolf's administration released new guidelines to deal with how drugs, particularly opioids, are prescribed for injured workers in Pennsylvania. The guidelines were meant to supplement existing guidelines, and not reduce the role or the judgment of doctors in deciding which prescriptions are needed. The guidelines are not to be used for treating pain associated with sickle-cell disease, cancer or any terminal illness or injury. The new guidelines recommend the following:
For any injury of a self-limiting nature, such as a strain, sprain or contusion, non-opioid medicines such as acetaminophen or nonsteroidal anti-inflammatory drugs (NSAIDs) should be used to manage the pain.
When these injuries of a self-limiting nature are more severe, the guidelines recommend that muscle relaxants — in particular, cyclobenzaprine, tizanidine and baclofen — be added to the injured worker' s treatment regime.
Prescriptions for muscle relaxants should be limited to one week. Prescriptions for muscle relaxants should be refilled only after the doctor has reassessed their effect on an injured worker. The use of muscle relaxants is limited to two weeks, as research shows that they provide little if any benefits past this time limit.
Other non-opioid medications, such as gabapentin, duloxetine and pregabalin, can be used to treat acute pain. Other possible treatments include ice, elevation of an injured arm or leg, rest, the use of physical therapy or chiropractic treatment, exercise and cognitive-behavior therapy.
If the doctor does prescribe opioids to treat severe pain, they should prescribe the lowest effective dose for the shortest duration possible. Any initial prescription should be for seven days at most, and any patient prescribed an opioid should be screened for substance use disorder.
When an injured worker is treated in an emergency department of a hospital, the treating doctor should prescribe opioids only if they're clearly needed, and never for longer than three days.
Since there's limited evidence that long-term use of opioids is beneficial, medical providers should continue their use only if "clinically meaningful improvements are observed."
How the Pharmacy Works With Workers' Compensation

If your workers' compensation claim has been accepted, either by your employer and their insurance company or after a decision in your favor by a workers' compensation judge, you do not have to pay out of pocket for your prescriptions. Under Pennsylvania law, your employer and their insurance company are obligated to pay for any work-related injury medical bills, including prescriptions.
One issue is that many doctors and pharmacies that are unfamiliar with the workers' compensation system in Pennsylvania are hesitant to wait for payment from the employer's insurance company or don't understand how to properly submit a bill for payment. And if a claim is controversial or contested, pharmacies often won't fill a prescription until payment is guaranteed.
In cases like those above, working with an experienced workers' compensation attorney can remove many roadblocks. Here's how:
First, you and your attorney can provide information to your pharmacy about the workers' compensation program and the guidelines that must be followed in order to submit bills for payment. Obstacles can often be removed with understanding.
Second, an experienced workers' compensation attorney knows how to deal with insurance companies that are dragging their feet when it comes to authorizing the use of medications for a work-related injury.
Third, if you're appealing a denial of your workers' compensation claim by your employer's insurance company and waiting for a judge's decision, experienced workers' compensation attorneys can refer you to medical providers and pharmacies that will both treat you and provide you with the prescriptions you need before the judge issues a decision.
What Causes Delays in Prescriptions?
As we noted above, the employer's insurance companies don't like to pay for prescription drugs. They complain that the drugs cost too much money and are over-prescribed, so they often abuse and try to manipulate the system in a number of ways.
1. Denying Authorization
One of a workers' compensation insurance company's favorite tactics is to deny authorization for prescriptions to treat a work-related injury — even when the worker's claim has been accepted. Insurance companies will try to manipulate a worker's need for medication to maintain control over the worker and limit their claim.

2. Making Themselves Hard to Reach for Authorization
Some insurance companies will try to force an injured worker to contact them directly before filling a prescription. In these situations, insurance companies will make it hard to reach the correct person or pass you from department to department when you try to get your prescription filled properly. It's their way of trying to discourage you from filling prescriptions that they consider too expensive and unnecessary, regardless of the opinion of your doctor.
3. Refusing Pre-Authorization
In many cases, especially with refills, it would be easy for your employer's insurance company to pre-authorize medications that your doctor has prescribed, especially if they've already authorized the drugs' use in the past. As a result, you wouldn't need to constantly seek authorization for each new refill. Instead, insurance companies will deny pre-authorization, resulting in constant delays for important medications. Insurance companies will do everything they can to limit the amount of money they need to spend on your prescriptions, even when they're legally obliged to pay.
Why Certain Drugs Are Harder to Prescribe
While public awareness of the dangers of opioids has increased, and the inappropriate prescribing of costly or high-risk drugs has decreased in the past few years, insurance companies still seek to spend as little as possible on prescription drugs. This situation may be counterintuitive because if an injured worker isn't receiving medication that will help them heal more quickly, they might need to take prescriptions over a longer period of time.

Some drugs should be prescribed with care and only in situations where they are absolutely necessary.
1. Opioids
While the new guidelines for opioid prescription in Pennsylvania will hopefully reduce their overuse, doctors and injured workers should still be careful about how they use these drugs. While their addictive properties have been well documented, they also cause other side effects, such as gastrointestinal discomfort and constipation. Long-term use of opioids can also lead to erectile dysfunction for men and serious side effects for the heart. Injured workers who already have a history of heart-related troubles should be very careful about taking opioids to deal with pain.
2. Muscle Relaxants
While muscle relaxants can help with acute pain, when they're used in combination with opioids, they can be addictive. While some muscle relaxants pose a greater risk of addiction than others, the one known as Soma is of particular concern. The problem with constantly prescribing opioids and muscle relaxants is that it's often necessary to prescribe other medications to deal with the side effects created.
3. Benzodiazepines

These drugs are used as sedatives and to treat nerve pain. Like muscle relaxants, if they're used in combination with opioids, their effect may be magnified, causing patients to have trouble breathing. In 2016, the Federal Drug Administration (FDA) specifically warned medical providers to avoid prescribing benzodiazepines along with opioids.
4. Compound Creams
While the idea behind compound creams was to create mixtures of topical analgesics as a way to treat pain without oral medication, compound creams are often combined in ways that have never been approved by the FDA. Some of these compound creams can pose a risk to injured workers, especially if they're taking similar medication orally. This situation could lead to an overdose and negative reaction. A safe alternative to compound creams is over-the-counter creams.
5. Specialty Agents
These agents are primarily biological medications that are usually injected or taken orally. They often require special procedures, such as careful handling and distribution. These medications are harmful in and of themselves — the danger is in their usage. Long-term or off-label (when an FDA-approved drug is used in an unapproved way) usage can equal harming rather than healing an injured worker.
6. Polypharmacy
When a patient has a long list of medications, insurance companies may be resistant to authorize their use, especially when a patient has been prescribed an opioid with several other drugs to mitigate its effects. This combination can create other possible side effects and is often a sign that an injured worker is seeing several different physicians who are prescribing drugs without conferring with the other physicians.
Contact the Attorneys at Frommer D'Amico
You have the right to obtain the medications that you need to treat your work-related injury. If you're concerned about the medications you've been prescribed, or if you're having trouble dealing with the insurance company authorizing your prescriptions in a timely manner, contact the experienced workers' compensation attorneys at Frommer D'Amico. We work exclusively on workers' compensation issues and have won millions of dollars in compensation for our clients.
Get in touch with us today about your medication concerns — we want to help you move forward. Give us a call at 717-428-7465 to schedule a free consultation, or contact us online, where you can leave your contact information and some details about your situation.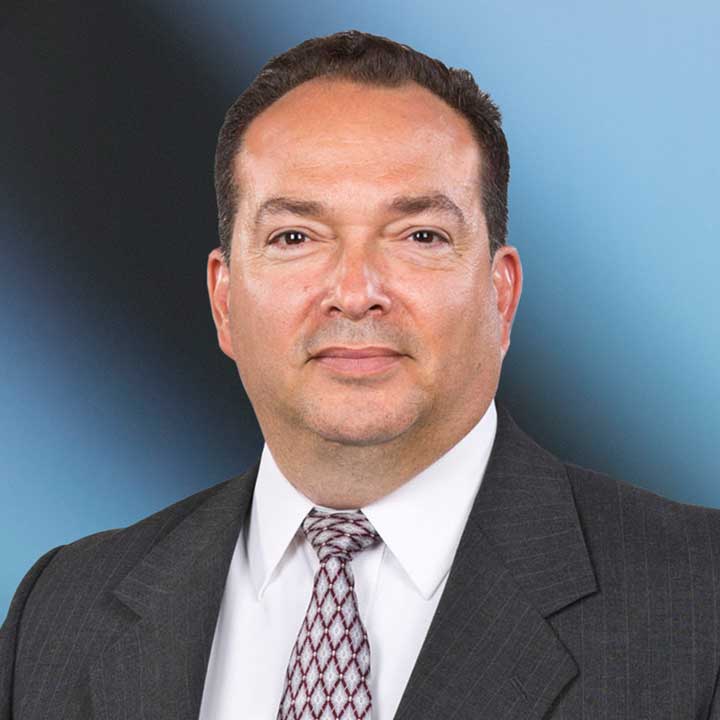 Joe D'Amico has more than 20 years of experience fighting for injured workers. He is Certified as an Expert in Pennsylvania Workers' Compensation Law by the Supreme Court of Pennsylvania. Joe is one of the very few Pennsylvania workers' compensation attorneys who have obtained a recovery in excess of $1.5 million for an injured worker.
Reviewed by Joe D'Amico.