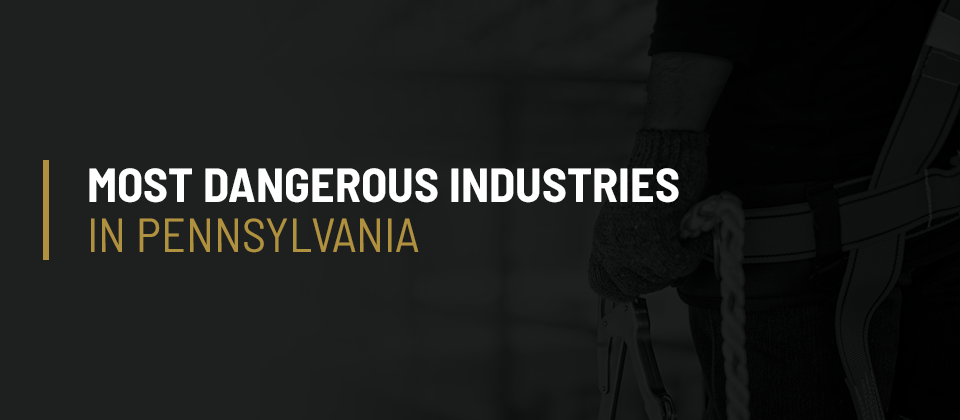 American workers are, by and large, relatively safe on the job. Unlike some other countries, federal and state laws in the United States provide protection for workers, and federal agencies like the Occupational Safety and Health Administration (OSHA) include inspectors who regularly visit industries across the country to make sure employers comply with OSHA regulations about workplace safety.
Even with these safeguards, however, accidents still happen in the workplace, and in some workplaces, they happen more often they do in others. Take the construction industry for example. Of the 4,674 worker fatalities in private industry during the year 2017, 20.7% (971 deaths) happened in construction-related accidents.
The leading causes of construction-related fatalities are known as "the fatal four" — falls from heights, being struck by an object, electrocution and being caught by or in-between a piece of machinery or crushed by a falling structure. So despite many state and federal protections, the workplace can still be a dangerous location.
Not Every Accident a Fatal One
Not every accident is a fatal one. Some industries in Pennsylvania have higher accident rates. Some might surprise you. For instance, not many people would think of air transportation as a particularly dangerous job since there hasn't been a major plane crash in the United States for a decade. Yet it has one of the highest worker injury rates in the state.
Let's look at some of the other industries in Pennsylvania and their injury rates as compiled by the Bureau of Labor Statistics (BLS). These rates represent the number of injuries and illnesses per 100 full-time workers.
Used household and office goods moving: 14.1
Air transportation: 10.5
Veneer plywood and engineered wood product manufacturing: 10.0
Animal (except poultry) slaughtering: 9.2
Veterinary services: 9.1
Animal slaughtering and processing: 8.5
Ambulance services: 8.1
Nursing and residential care facilities: 8.0
General freight trucking, local: 7.7
Beer, wine and distilled alcohol beverage merchant wholesalers: 7.5
Nursing care facilities (skilled nursing facilities): 7.5
Arts, entertainment and recreation: 7.5
Couriers and messengers: 7.3
Those are just some of the injury figures from industries in Pennsylvania. No doubt you'll find some surprises. For instance, who would've thought that people employed in the arts and entertainment industry would have an injury rate only slightly lower than those employed in general freight trucking?
The important thing to remember is that if you are injured on the job in Pennsylvania, you may be eligible for workers' compensation.
Let's take a deeper look at five of the most dangerous industries in Pennsylvania.
1. Transportation

Transportation industries in Pennsylvania cover a wide swath of jobs from air transportation and moving office goods to delivery workers and taxi drivers.
Airline workers face unique risks on the job. While there is always the possibility of a crash for pilots and flight attendants, more often, people who work in the air transportation industry suffer from injuries from accidents related to what they do on the ground.
These common injuries include:
Icy tarmacs that cause trips or slips that result in fractures or sprains.
Moving sidewalks that may also result in trips or slips.
Air turbulence that causes lacerations or concussions for pilots or flight attendants.
Injuries to the back or knees resulting from loading and unloading baggage throughout the day.
Injuries in the air transportation industry affect pilots, flight attendants, shuttle bus drivers, food service workers, baggage handlers, grounds crew and even ticketing agents.
Delivery workers, such as couriers or workers who deliver food like pizza or sandwiches, also have a high rate of injuries on the job.
The kind of injuries that delivery workers face can be more serious because of the nature of their work. Delivery workers often face extremely tight deadlines. A document needs to be across town as soon as possible, which sends a courier speeding through traffic on their bike. A pizza needs to be delivered within 30 minutes, or the employee may face a penalty. While rushing to make these deliveries, these workers face the possibility of accidents involving motor vehicles as well as of tripping or falling as they rush to complete their deliveries.
In each case, workers injured in transportation-related accidents may be eligible for workers' compensation. This is also true for part-time or seasonal workers. Each occupation, however, faces unique problems convincing employers and insurance companies that their injuries are legitimate.
Employers and insurance carriers hate paying workers' benefit claims and will do everything possible to avoid doing so. For instance, insurance companies may claim air transportation workers purposely hurt themselves to get time off. Insurance carriers often accuse couriers and delivery workers involved in car accidents of being "on their own time" or under the influence of drugs or alcohol when the accident happened. Employers try to misclassify employees as "casual," a category that is not always covered by workers' compensation.
If you have suffered a work-related injury, and you believe that your employer is trying to prevent you from receiving the workers' compensation benefits to which you may be entitled, contact a workers' compensation attorney immediately.
2. Manufacturing

A lot of different jobs fall under the rubric of manufacturing. For instance, workers in warehouse distribution facilities, truckers who deliver items from these warehouses and factory workers all qualify as working in manufacturing.
Warehouse workers — which can cover employees in businesses from wood product manufacturing to beer and spirits distributors — and truckers suffer injuries at higher rates.
Warehouse workers sit or stand all day. If they're not sitting or standing, they may be constantly moving. They must often perform repetitive tasks or lift heavy objects stored on shelving units above their heads. Warehouse workers also use heavy machinery, such as forklifts, which can pin workers or flip over and result in serious injuries or death.
Truckers are constantly on the road. Accidents involving other vehicles or jackknifing trailers are constant concerns, especially when a driver has been on the road for a long time and might be fatigued. Truck drivers also sit for a large part of the day which can lead to problems with the heart and arteries. They also load and unload their trucks, which can result in injured backs or repetitive strain injuries.
Workers in manufacturing industries who are injured in job-related accidents may be eligible for workers' compensation. This is true whether the accident was an employee's fault or the employer's fault. In incidences where fatalities are the result of an accident, workers' compensation benefits will help survivors with funeral costs and other forms of financial assistance.
One of the problems that manufacturing workers face in filing workers' compensation claims, however, is that some Pennsylvania employers try to avoid paying for insurance by misclassifying their employees as "casual" or "independent contractors." Independent contractors are not eligible for workers' compensation benefits.
Serious injuries in this industry can require an employee to be off the job for several weeks or even months. So it's critical that your employer takes your workers' compensation claim seriously. If you feel that your employer and their insurance company are trying to prevent you from claiming these benefits, contact a workers' compensation attorney as soon as possible.
3. Agriculture
Agriculture is an industry where workers' compensation in Pennsylvania is more complex. Although injuries suffered in agricultural-related work accidents can include very serious incidents involving tractors or other machinery that can crush or even amputate limbs, not all agricultural workers may be covered by workers' compensation. Many agricultural workers are covered, so don't assume you can't get workers' comp if you work in this industry.
Pennsylvania state law excludes agricultural laborers who make less than $1,200 a year or who do not work more than 30 days annually. Additionally, minor children and the spouse of an agricultural employer who have not asked for workers' compensation coverage from the Department of Labor and Industry are also excluded.
Many agricultural businesses, however, do employ workers who fall outside these exclusions. This means that people who operate agricultural businesses — even if they only have a few workers who fall outside the range of these exclusions — must purchase workers' compensation insurance.
Since the rules about agricultural workers can be complex and confusing until you know the exact situation, many agricultural workers injured in a work-related accident don't bother to apply for workers' compensation. Yet agricultural workers should always check with a workers' compensation attorney who can help them determine if they are eligible for benefits.
There is also the question of undocumented workers employed by agricultural businesses. If a worker is not eligible to work in the United States, they should seek legal help in this situation. It is still a good idea to contact a workers' compensation attorney.
4. Healthcare

Healthcare workers spend most of their time on the job looking after other people. Yet they are especially prone to suffering work-related injuries and accidents.
Healthcare workers are regularly exposed to contagious diseases and chemical toxins.
Nurses often lift heavy patients from a gurney to a bed, help them into wheelchairs or assist them while they are walking to the bathroom.
Healthcare workers of all stripes must deal with a patient's anger or the ire of an upset family member, which makes them vulnerable to violence.
Long hours of repeatedly doing the same task means healthcare workers are more prone to repetitive stress injuries.
Healthcare can be a high-stress environment, especially in a location like a hospital or nursing facility. This can result in injuries or errors. Constantly working in a high-stress environment can lead to depression, other mental health challenges or even PTSD.
Working with dangerous objects like needles or radiation equipment are often part of a healthcare worker's job.
If you are a healthcare worker and are injured on the job, you may be eligible for workers' compensation benefits. This is especially the case if your injuries prevent you from doing your job. Repeatedly lifting heavy patients, sticking yourself with a needle or being attacked by an angry relative of a patient can result in injuries that prevent you from working.
In these cases, workers' compensation can provide you with medical care and lost wage benefits. If you suffer a work-related injury, you should speak to a workers' compensation attorney right away.
5. Mining
Mining has always been a dangerous profession in Pennsylvania. The state has a long history of coal mining and, sadly, of coal mining accidents. Hundreds of Pennsylvania coal miners have been killed in accidents that stretch back as far as 1869. Additionally, thousands of coal miners have suffered from black lung disease and other coal mining-related injuries or diseases.
It's not just the fatalities and diseases that can affect miners, regardless of the kind of mining operation in which they are employed. Mining accidents can include caught-by or in-between incidents where workers are crushed by large loading cars or injured when they slip or fall in poorly maintained areas. Miners often suffer injuries to their backs, spines or limbs. Miners can also have problems with carpal tunnel syndrome.
As we noted above, employers and insurance carriers are reluctant to pay injured employees workers' compensation benefits. Miners see themselves as heartier than the average worker and may be inclined to think they can "tough out" an injury. This is a mistake. If you are a miner and have been injured in a work-related accident, you should consult a workers' compensation attorney immediately, especially if your employer or their insurance company has denied your claim.
If You've Been Injured on the Job, Contact Frommer D'Amico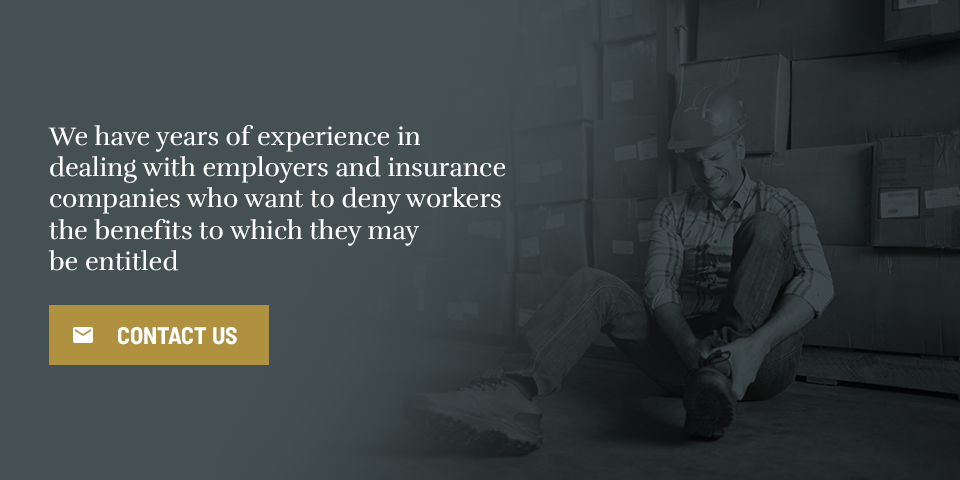 Regardless of the type of industry in which you work, be it air transportation or mining or even arts, if you have suffered a work-related injury, you may be eligible for workers' compensation benefits. These benefits include medical care and lost wages benefits.
The experienced workers' compensation attorneys at Frommer D'Amico can help. We have years of experience in dealing with employers and insurance companies who want to deny workers the benefits to which they may be entitled. At Frommer and D'Amico, we work hard for our clients to help them receive the benefits that can make a big difference to an injured worker and their family.
If you've been injured on the job, and you would like to speak one of our experienced workers' compensation attorneys, you can reach us at 717-400-1000 or visit our contact us page to leave us some information about your situation. A member of our team will get back to you as soon as possible.